Dear Future Self is an ongoing series which takes a look at the presence in its impermanence.
The idea is to capture a certain moment in time, a feeling, a wish, an encounter or experience and to recognize, that the perspective on that moment will change.
My future self will know more than I do now, will have had more and different experiences than my current self, and will therefore have a different view on what I'm noting now.
Going back and forth, between these notes, also documents the steps in personal development and shifts and changes on an individual level.
► My Future Self Journal ▼
Why do I write to my future self? ◼︎ ●

Self-Actualizing, personal development, the search for more options, finding out how to actually live our best lives, or simply experiencing growth and change for any reason, might feel weird, scary or uncertain.
Yet impermanence or becoming is something we all share.

I started to write and publish some diary post a while ago, and looking back at them even a month later, I felt like I should rewrite them because my perspective had changed so much.

But that would be like trying to erase the most essential part: the journey.
We don't just arrive at a certain point, we struggle, fight, fall down, run in the wrong direction, come back, stand up, fall again and yet continue.
We laugh, love, enjoy, paint, sing, dance, discuss and find ourselves surprised by the unexpected. With every experience, we spiral up and can dive into deeper levels of experience and understanding if we allow ourselves to do so.
This series is a documentation of a journey into the unknown.
It shows how vulnerability and fear can be present, and welcomed, and not stop us.
It's about admitting mistakes and acknowledging how easily we can be wrong, no matter how mindful, present, in tune and aware we are.
We'll never know until we try.
But most of all it's about celebrating life in all its different forms and shapes, colours and sounds and tastes, in depth and lightness - to witness life's endless beauty and continuous unfolding.
We are all a part of life's magnificence, the question is: How much of it do we allow ourselves to enjoy and experience?
The more we open up and liberate ourselves from what we thought we knew, the more we allow to see things in new ways and the more love we share, the more magical life becomes.
May we open our present with presence and let our future selves continue to experience life wholeheartedly.
May my honesty inspire yours and show you that there is nothing to fear. Everything is working out for the greatest good. ❤️
With lots of love for you and this world,
Verena
Read conversations with my future self: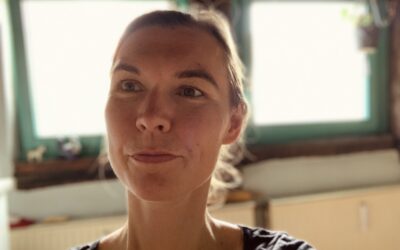 I have to admit that I have my difficulties.
I grew up believing in God. Not that long ago, I opened my very first diary to a random page and read about how grateful I was, that I always had God to talk to.
Then my education made me believe that there was no God. I came to the conclusion that God, or any kind of belief, was used to explain things we couldn't explain ourselves yet.
► Start Your FUTURE SELF JOURNAL
Why start a future self journal?
It's quite simple: If you want to live purposefully, it's important to know what your purpose is.
The main question in finding your purpose is: who do you want to be? Who do you imagine your future self to be?
Where would they live?
How would they spend their days?
Draw a picture in your mind about your future self in all details.
Are you done?
Then start to think what you can do to be that future self now.
One way to make your future self seem like a real person, is by writing to them.
Every time you write to them, you can imagine for them to be a real person and with that, they become more real to you.
Seeing your future self clearly, makes it more clear for you to recognize which steps you need to take to become your future self.
Are you ready to get started with your future self journal?
Download the cheat sheet and let's go!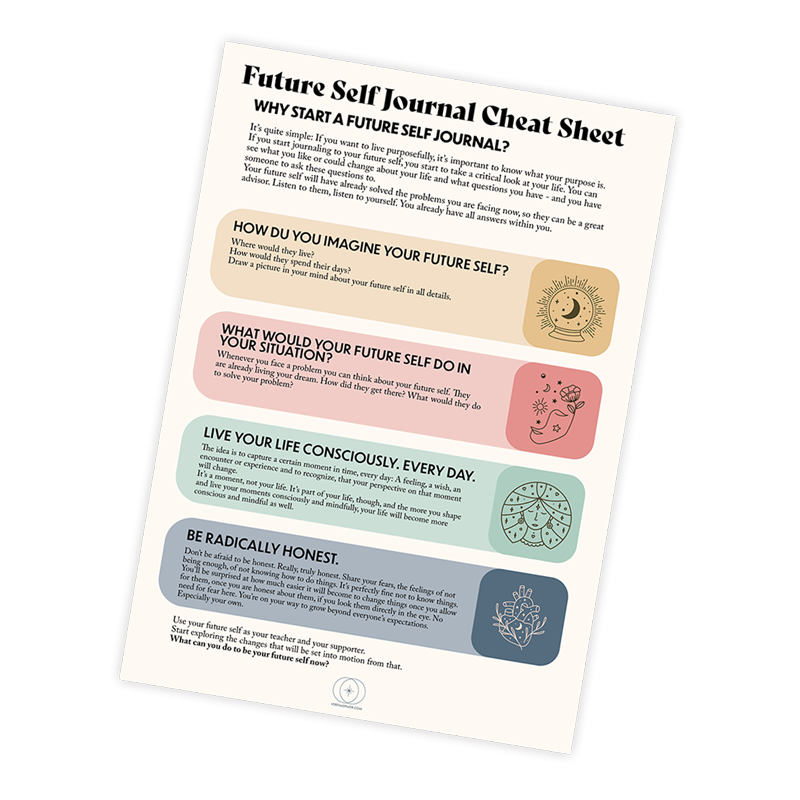 Download your free future self journaling cheat sheet