Balancing your life and your responsibilities can seem like an unreachable goal – but it doesn't have to be.
With a few easy steps and practices, you can balance your life and bring in joy, peace and ease as well.
It's the new way to live and it's available to all!
Do you feel like you don't have the time that allow you to do the things that make your heart sing?
Do you find it difficult to decide what the next best step is to allow for more well-being in your life?
Do you think that relaxing and having an easy and joyful life is for other people, but not for you?
In short: Is it seeming impossible to you right now to live a happy, healthy and balanced life, where you do only the things you really want to do?
I'd love to show you how you, how anyone, can make this their new reality.
Because all you need to do to start living a balanced and joyful life, is to start believing that you can and deserve to do so and a step-by-step guide to help you get there.
You will learn how this step-by-step guide works in this article.
To be more precise, this guide consists of three simple steps, that we can take together, to allow you to reach your goals in life and they work super well to bring balance and joy, love, peace and happiness into your life.
Curious to learn more? Then, let's have a look at the three steps.
STEP 1: Assess what you have now
Have a look at your life, what do you like about it, what do you think you are doing really well? Where are you winning, and what do you enjoy? And what do you love about your life?
And now take a moment to think about the things that worry you or stress you. When do you feel sad? Unhappy? Overwhelmed? Helpless?
Would you like to change these things and begin to feel better and more empowered more often and in more or even all areas of your life?
Then you've taken the first step and identified the area(s) you want to work on – how to do that exactly I will show you in the CREATRIX School.
I often hear people say things like: "I'm actually quite happy when I have phases in which I work too much and push myself too hard."
Or: "If I wouldn't be critical and hard on myself, I wouldn't reach my goals."
But none of that is actually true or helpful, even if it may feel that way momentarily.
Just like these two examples, we have many beliefs, often based on our experiences and what we think about them, that while they might lead to certain peaks, only serve to keep our lives out of balance – and with that out of the flow that allows us to live with ease.
As you are here, I know you are different and would like to bring more joy and ease and effortlessness into your life, while reaching even higher goals and living a balanced life.
And you've come to just the right place to find out exactly what you need to change, so you can turn your current life into a balanced life, no matter where you are at with your life right now.
Living a balanced life gives you the opportunity to tune in to what your soul desires.
And when you align with your soul's desires, magic happens and everything becomes easier as the whole universe starts to support you.
STEP 2: Let go of your baggage
To allow for these kinds of changes, we have to start by being honest with ourselves and see where we have limiting or false beliefs that keep us out of balance.
If this were a straightforward process, everybody would be doing it already (and more and more people are!), but the more we practice this, the easier and more natural it becomes.
The tricky thing is that most of our limiting beliefs are not so easily available to us, as they are located in our subconscious, and often times we are not even aware that we have them (because we consciously believe the opposite, or just something else).
And if we don't find them, they might be blocking us from creating the changes we seek for the rest of our lives.
Our hidden beliefs or assumptions have kept us safe at some point in our lives, and so our body tries to hold on to them, and run them on autopilot, even if we don't need that kind of protection any more and even if these behaviours and ways and are actually harming us now instead of protecting us.
As long as we are unaware of these subconscious beliefs, they keep us from creating the changes we actually want.
(Ever tried to create a new habit or routine and failed? This is why!)
We might consciously believe and know, for example, that there is enough work and food and money for everybody. Yet subconsciously, we think that there isn't (because we've heard this from parents, friends, the media) and so we continue to compete with or feel threatened by other people.
Or we may think that we have to work hard to make a living, or that if we don't sacrifice ourselves and suffer enough to make ends meet, we are doing something wrong.
In a world where people feel and honoured to overwork and have too much responsibility, normalize exploitation and allow for horrible working conditions and environments that physically and mentally drain us – we think it is normal to be stressed.
And stress is a normal and healthy and reasonable response to being in unnatural, stressful and unhealthy conditions.
However, that's not a reason to accept that, but to change it.
And you are the only one who can change this for yourself!
By trying new ways and opening up new opportunities.
It's very easy to think that we are not worthy of having what we desire, wonder why we should be able to achieve our dreams, if other people can't, or simply not dare to actually look for what we want more of in our lives, out of fear that we might not get it.
But it's just as easy to do the opposite.
Because you are worthy of having everything you desire and more.
You came into this world to make your dreams, and all our dreams, of living together in peace and harmony, true. You have a unique calling, a life-path, that is waiting to unfold in front of you.
And you can achieve anything in life that you wish for, and the whole universe is literally sitting here watching, and can't wait for you to start stepping into your full power, and to support you in all the ways you need to follow your calling.
But to believe this, you will have to try and see this for yourself, and I will show you exactly how to do this in the CREATRIX School.
Is it time for you to let go of the baggage, hidden assumptions and old beliefs that have been holding you back?
Then let's begin to open up for the changes you seek and make a balanced and joyful life your new reality!
STEP 3: Focus on what you want
After we've created some space to open up for something new, by uncovering and dropping the beliefs that have been holding us back so far, we can then begin to actually focus on what we want without boycotting ourselves.
In the course on Purpose of the CREATRIX School, we've already looked at our astrology, numerology and Wheel of Colours, to learn more about our soul's needs, desires and guidance and our purpose and calling on this earth.
If you've not taken the purpose course yet, it might be a great place to start to understand yourself better, and then come back here to build your personal growth on that foundation.
Because this course is called Growth/Balance for a reason. As human beings, we are not meant to stand still, we are built to evolve.
And just like exploring new territory in nature, where we don't have the knowledge in our body yet how to handle the ground and place our steps in the best possible way, changes in our life, can unsettle us, as well, and bring us out of balance for a moment.
Mindfulness and presence can help us here in both cases and allows us to watch ourselves carefully and kindly and supports us to continuously find a new balance integrating the changes and this way, levelling up, step by step.
For this, we will consciously make peace with all that was and that we have in our lives now, and then begin to see what we as unique individuals need, what tackles our interests, joy, love, pleasure and gets us excited, to take us to new shores and grow in healthy and joyful ways, which will allow us to get to where we want to go next.
We will use different proven and tested exercises to reach our subconscious beliefs, tools to support us on the way, our Wheel of Colours, to see what we each need as individuals for this and we will also use universal and divine laws to help us understand how we can manifest the changes in our lives with confidence and certainty.
And that's really it. It's going to be fun, exciting and life-changing.
If anyone can do this, why aren't they?
Because many people don't believe that it will actually work.
Also, there's a certain comfort in not taking full responsibility for the situation we're in, by blaming our circumstances, upbringing or current world events – and pretending like it's not up to us to create the changes we need and seek.
If we want to create changes, it's always up to us to start, no one will do it for us, and for that, we have to take full responsibility for our lives and be honest with ourselves, and find our own unique way to become happy to laugh, learn and enjoy change and failure, as much as our wins.
Because every failure, everything we try, is a wonderful life lesson that helps us to grow and learn.
If we begin to see things this way, it also allows us to open up to joy and love and abundance in our lives.
Again, anyone can do this, but it might take some practice and encouragement, that is hard to bring up on your own.
Most people simply don't know where to begin or what to do exactly, and don't have the money to work with a coach or teacher on these topics individually.
Which is precisely why I founded the CREATRIX School.
This way, I can guide you through every step you need to take to get to where you want to go and bring clarity, confidence, joy, relaxation, abundance and playfulness into every area of your life – without having to pay full price for a personal coach.
Because, as every good coach will tell you, we are here to ask you the right questions, the answers you will always have to find for yourself.
And you do already have the answers, you just haven't taken the time to ask them and to listen to your answers yet.
You have everything it takes to live the life your soul desires, that makes you happy and fulfils you.
And the more you recognize and live that, the more confidence you find in walking your unique way, and the more balanced your life will become.
The questions we have to answer to live a fulfilled, happy and successful life are the same for almost every one – they have been asked again and again over centuries by wisdom seekers all around the world.
And once you have answered them for yourself, you will find peace and calm and a sense of safety, that is hard to imagine possible before you do.
Again, it's something I wouldn't have dared to imagine possible before I started my own self-actualization journey. I was pretty insecure, doubtful and unhappy in my past.
But without that past, I wouldn't be here now.
I've learned a lot because of it, and I'm happy about and proud of everything that has happened in my life and every step I took and will be taking because movement is life and standing still blocks life and expansion – it's essential to grow and change to stay happy and in balance.
And I'd love for you to develop this sense of ease and joy about everything that happens in your life as well.
Isn't it selfish to take time to answer these questions and begin to live my dreams when other people are struggling?
If you ask this question, aren't you struggling yourself? Don't you find it difficult to sleep peacefully at night because you worry about your personal situation and the state of the world?
The thing is, we can only safely reach out a hand to other people if we stand strong ourselves. It's the same reason why we are told to put an oxygen mask on ourselves first, before we help others – because if we don't have air, or energy or love, or food or hope to sustain ourselves, we cannot inspire and support other people.
Equally, we can only create a better and more equal world, if we all have access to all the resources we need to live free, happy and abundant lives. It's why I will always encourage you to share everything you learn here with other people.
The truth is that to create change on the larger scale, we always have to start with ourselves.
If we are strong, we can act powerfully, if we know how to be healthy, we can share that knowledge with others, if we love ourselves, we can share and give and receive love freely as well.
If we want to help other people, we first have to know how to take care of ourselves – so it's never selfish to learn how to take good care of ourselves.

Everybody can have their dream job, live in their dream home and live and experience peace and joy, we just don't all know how yet.
But you can make a start, just like I did some years ago, and then begin to share your knowledge with confidence and experience so that, over time, all people who are interested, will have the knowledge and ability to live self-actualized, happy, healthy and successful lives.
In the end, it is up to you to decide if it's time to start living and growing with ease and to live a life that matches your desires. No one will stop you, but you.

If you let other people and their opinions hold you back, it will not make you or them any happier or help you or them.
But if you want to begin changing your life for the better and inspire others to do the same – because they will see you change and shine and thrive, then you can book the Balance / Growth! course individually or join the CREATRIX School, to bring clarity, confidence, joy and abundance into every area of your life for one full year.
And you can try this risk-free. If you don't like it, you have a thirty-day money-back guarantee, no questions asked.
Is now the right time to start balancing your life?
You know it is the right time to start balancing your life when you think that living a life free from stress, anxiety, doubts and worries would be nice.
Excuses as to why now is not the right time will always come up, but they are just what they are, excuses.
Because in the end, the sooner you start to create a life according to your soul's desire and align your body, mind and soul, the sooner you will be able to fully enjoy your life it as well.
So, I give the question back to you: Is it time for you to live in a way that nourishes you and makes you feel safe, happy and at ease?
Then, yes, this is the very best time.
AM I THE RIGHT GUIDE FOR YOU?
Hi, I'm Verena and this is one of my favourite topics because it touches our lives so fundamentally.
When our lives are out of balance, we hold on to certain things that calm us and give us a sense of security, but with that, we create even more instability, as we are blocking the natural flow of life.
To surrender to life, and to trust that we are safe, guided and protected isn't easy at first, but it becomes so much easier over time, and with practice.
Because when we let go of controlling things for the first time, and deal with the consequences, it might actually feel like the world is ending for a moment
… and then, when we come out on the other side, we know it didn't.
And this experience brings an incredible sense of security and confidence.
When we realize that what we've been avoiding all our lives isn't so bad after all, in fact, we will find out that it is a natural part of our lives, here to support us and help us grow.
We have all our feelings and emotions for a reason, but they are meant to be felt, lived through and then let go of and not to be manipulated, pushed away, avoided and ignored.
Because if we do that, they will bug and bother us as long as we do.
And I've only really learned to do this in the last few years. But the changes that resulted from that are still unbelievable to me almost every day.
The key to living a balanced is life is to live an honest life. To learn what we need, to speak and know our truth, and to act accordingly.
I, personally, was often afraid that I would hurt people if I spoke my truth, or began to prioritize my needs and take good care of myself.
But I, fortunately, got to a point, now many years ago, when I decided that I didn't want to continue to please other people more than myself.
To be honest, in the beginning, I just wanted to be a little bit healthier and happier.
And so I began to look for ways to be that, which quickly turned into a couple of years of research and training which let me to become the spiritual teacher and coach I am today.
I have an M.A. in anthropology and political sciences as well, so how people work has always been my main point of interest, but what I found out in the last couple of years of research, and what I didn't learn at University, is, that with just a few specific changes in the way we think and act, everything in our lives can change for the better – and this is true for anyone who is willing to be honest with themselves and not afraid of change.
Because we can all live abundant, happy and healthy lives – all we have to do is find out how and then practice.
If that's what you want to do (and I can literally see your soul dancing and saying yes!) then I'd be happy to guide you through this process of self-actualizing, becoming your best self, or your qu_ing self and begin to live the life, you know you were always meant to live.
I'm looking forward to welcoming you to our wonderful community of people who dare to be generous, happy and free!
How does this work?
Every course is structured similarly and follows the three steps I mentioned above. In the first week, we assess what we have in life right now regarding each topic and begin to think about what we would like to have.
In the second week, we turn to our past and clean up, so we can let go of what doesn't serve us any more, find hidden assumptions that have been blocking us and drop the baggage that has been making our lives difficult and heavy.
In the third week, we focus on what we want to create now and begin to take the steps that will get us there, whether that is reaching out to new people, cleaning up our homes, doing exercises to learn more about our desires, making art, taking on new practices and so on.
And in the last week, we reflect and integrate. Because that is just as important as the actual work if we want to create lasting effects.
Each week is split up into three separate lessons, which you receive via email on Mondays, Wednesdays and on Fridays. To read each email takes between 5 and 15 minutes, depending on whether it's more practical or theoretical.
So around thirty minutes each week will be your minimum weekly time investment.
But just reading the content will only bring you minimum results. Every lesson comes with exercises and the more time you invest here, the deeper you go, the better your results will be.
Don't let this time commitment discourage you, though. This is an investment you make now, which will save you tons of time in the future.
Because if you invest time now, to find clarity about your life and your desires, you will win this time back many times: by not making the same mistakes over and over again, by knowing what to do and how and by simply being good to yourself instead of boycotting what you really want with distractions, avoidance and procrastination.
What else is included?
Each course or chapter comes with a playlist, recipes and rituals, so we can use all our senses to joyfully integrate the topics we are working on and to feel the change and make it visible as well.
We will also refer to some chapters of my upcoming qu_ing book, which you will get access to through the course emails, and in some chapters or courses we will use the Archetype Oracle Cards Deck I created.
The cards and descriptions we'll be using will also be made available to print if you join the course.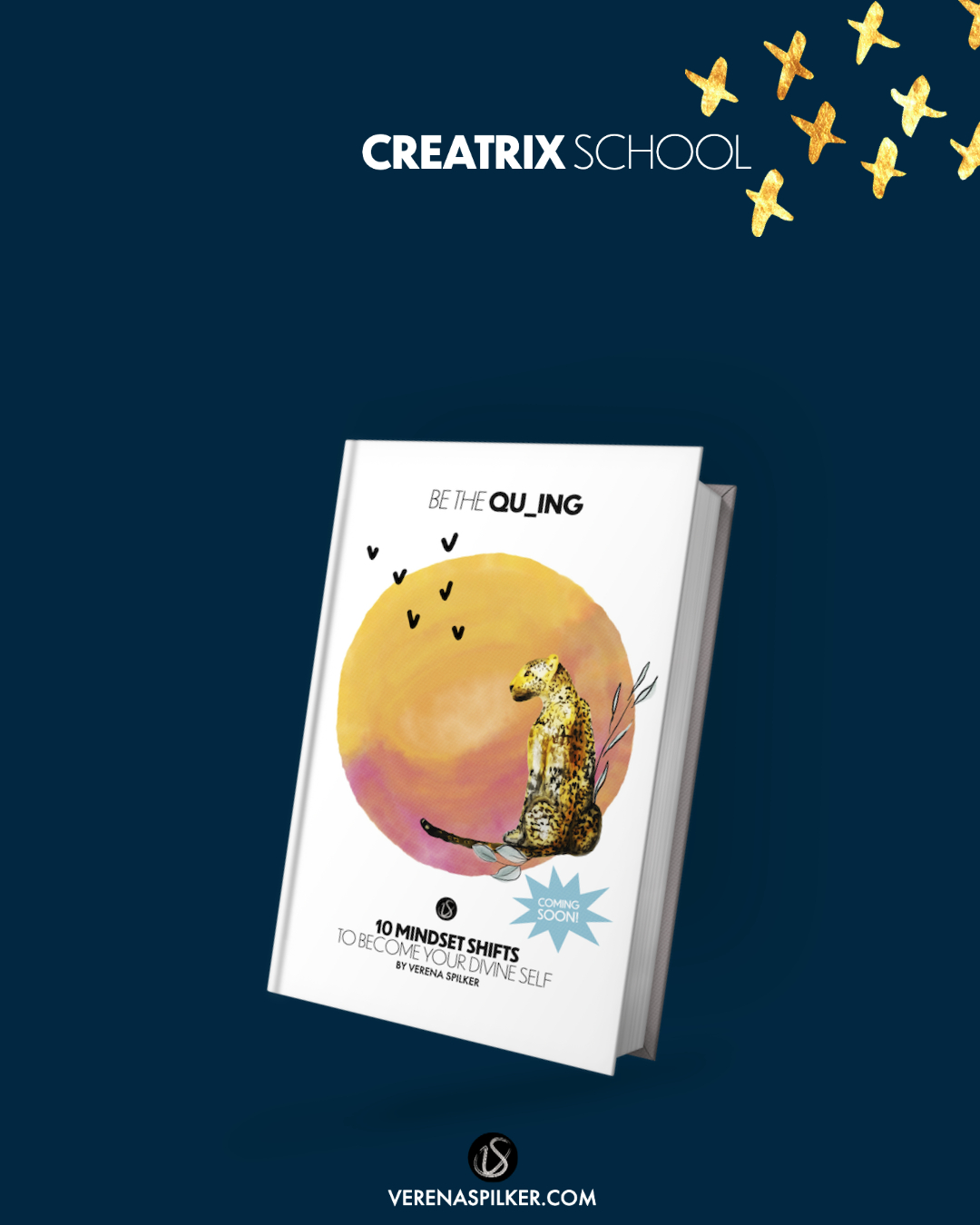 There is a private Facebook group you will be invited to join and I offer bi-weekly Q&As, so you can get all the questions answers that might come up along the way.
In some chapters, we will also look at our individual Wheel of Colours, as it is a super useful tool to bring more clarity into our lives and to find out what we each need in certain situations.
As I make the Wheel of Colours individually for each person, you will have to order that separately.
If you join the CREATRIX School or take one of the courses individually, you will receive an extra discount code for your order of the Wheel of Colours though as well.
All the course contents are also available as a PDF so that you can keep it forever and refer to it whenever you need to.
For the CREATRIX School, as well as the individual courses, there are different membership options available, starting at € 19.90 per month/course.
The knowledge and skills you can learn here are essential to living a happy and fulfilled life, and while it's a shame that we didn't all learn these tools and strategies in school or from our parents – I want to make them available to anyone now.

If you can't afford the €19,90 per month or €190 for one full year, write to me, to figure out a scholarship option.
Because we all win if we each become happier, healthier, more joyful and more successful.
Is it your time to shine?
Then I'm looking forward to welcoming you to the CREATRIX School.