Do you sometimes feel lonely even when you're surrounded by people?
Or because you don't have any or enough people that you trust around you?
Do you remember a time when you felt seen and heard and held by your friends? Or did you never really experience that? And if not, do you know why?
I often hear people say that it was so easy to make friends in school, or in college, but as an adult, it becomes so much harder.
I remember that when I moved to Berlin almost 15 years ago, everybody said it's impossible to make new friends there because everyone is so busy with themselves.
But that was never true for me. Because the thing is, it's never about the other people, or the place, it's always about us and our willingness and ability to show our true and real and authentic selves – if we want to make meaningful connections and form meaningful friendships.
So no matter what your experience has been so far, this month, we will explore how to create meaningful friendships that last.
And to be able to do that, we start by meeting ourselves and our needs when it comes to connections – because we all connect in different ways.
Would you like to start exploring new ways of creating friendships now?
Then you are invited to the CREATRIX School live for the next 12 months – to learn all it takes to live a life full of joy, confidence, love and ease and to begin to live as your best self in all areas of your life.
Or you can also take this course on Friendships individually. You'll find a link for that at the bottom of this page.
And of course, you will also get some practical and useful tips to get started on creating the friendships you wish for, in this introduction.
Friendship as an Antidote
Can we use friendship as an antidote to the problems we see in the world today?
I believe we can, and fortunately, I'm not the only one.
In a world of division, unresolved issues, misunderstandings, cancelling and calling each other out instead of inviting each other in – each of us has the possibility to choose a different path and can form friendships to support us in our lives and growth.
Together with people we love and trust, that we welcome into our lives, we can create the world we want to live in.
And this is what we will do in theory and practive this month in the CREATRIX School.
Because, especially if we go through changes like we do here, we can use all the support we can get. And it's also great to invite others in, so we can all learn from each other, hold each other and support each other.
I don't know if Jessica Freed was the first one to come up with the idea of creating a sacred crew, but I heard it from her first, and I immediately loved the idea!
So in the third week of the Friendship Course of the CREATRIX School, we will do something similar: We will each start our own CREATRIX Crew.
A CREATRIX Crew consists of at least 8 people – because that's the number of people most effective in healing ourselves and the planet – Lynne McTaggert wrote a whole book about this, and these eight or more people can be your existing friends or family or other people from the CREATRIX School. We'll get into more details in the course.
The only thing that is required from all crew members, is a commitment to supporting each other in becoming the best versions of ourselves and creating a supportive network, so we can grow and learn and rise together.
Let's prepare to start a CREATRIX Crew
But before we get there, we will look at what we've been missing in terms of friendships so far and what we are willing to release in terms of beliefs and actions, which have been keeping us from making the connections we would like to have until now.
For that, we follow the three elemental steps to achieve anything we want in life.
The first one is to explore what we have now. Here we start to think about what we like and what we don't like about our current friendships, to make sure that we will keep what we like and invite more of that into our lives.
The second step is to let go of what we don't like, don't need, what doesn't serve us any more. This way we create space for more of what we do want and it allows us to move in the desired direction.
When it comes to friendships, it might be especially important to note that this is not about disregarding friends or friendships, but to see which qualities we are missing in our friendships and then to learn how we can cultivate them so that we can step up and become the friends we would like to be and have.
The third step then is to really focus on what we want more of in our lives, and to start creating a solid plan for how we can become a great friend and create begin to create our CREATRIX Crew.
Does that sound good?
I'm very sure it will be a really magical experience. I can feel it already.
And of course, you can figure this all out on your own. But as we all know, in our daily lives, it's very easy to lose track of what we want to change, by reacting to the demands that come up and therefore we can easily fall back into old patterns, if we don't also bring in some structure to allow for the changes we seek to manifest.
Which is what we do in the CREATRIX School with weekly content, questions, exercises and bi-weekly Q&As.
By following along, you will have the reminders and encouragement you need to make the changes stick, become the friend you want to be, and to create the meaningful friendships you are looking for.
So, join us now. We are looking forward to welcoming you.
How can we become great friends?
So how do we find out what we need or are missing in our friendships and what we each need to become a great friend?
For this, we will use two proven tools to support us.
The first tool is the Wheel of Colours, which can tell us a lot about the role relationships play in our lives, depending on where we have the colour white in our wheel and the second tool is the Friendship Archetype Oracle Cards.
Archetype Oracle Cards
The Archetype Oracle Cards will help us to get a better understanding of the roles we (want to) play in our friendships.
They will help us to ask and see if we are a mentor or a mentee, a companion or a competitor?
Each of these roles serves a function and is valid and useful, but if we become conscious about them as well, it will help us to recognize our expectations and needs and what we can give and share.
We don't have to have the same relationship qualities in each of our friendships, but it does help to create a healthy balance of relationships in which we give more and others in which we receive more or relationships where we grow together and those where we can learn from others or guide others.
Why is it that it is easier for some to make friends and connect and harder for others?
Because we each have a unique essence, a distribution of qualities and our own ways to contribute to this world.
It's so easy to see others succeed and think and feel like it was easy for them, but it's hard for us. And that might even be true, but getting upset or feeling disappointed about that won't change anything for the better.
What will allow us to make new experiences and change old patterns, though, is to get to know ourselves and to learn to do things our way.
And there's no better tool to help with that than the Wheel of Colours. If you join, the course, you will get a discount to get your unique Wheel of Colours as well.
Some of us magically attract people into their lives, but those might not always be the right people, others form few but intimate and lasting friendships. Some of us thrive when they have many people around them, others feel exhausted when they have too many people around them for a longer time and need to go back into solitude to recharge.
Wherever we land on this spectrum, we need to find a way to form lasting relationships because exchange and community is what sustains us.
It is important to have and create a supportive network, and most of all to learn how we can make ourselves seen and heard.
And we can also just have fun with our friends, spend time together, sing, dance, create or get inspired together.
How we do that and how frequently we do this is up to us and our individual needs and wishes – which we will begin to acknowledge and honour this month.
And the CREATRIX School offers the unique opportunity and guidance to walk you through this step-by-step.
I've lived so long. Why don't I have this figured out yet? Can I still change?
It is never too late to start creating the changes we seek in life.
I always remember my neighbour when I was growing up, who fell in love again in her 80s, more than ten years after her husband had died, and moved in with her boyfriend and it really was the cutest and most inspiring thing to see.
When we look at the studies, more people feel lonely than ever. And this is because we've been valuing individualism and financial success and careers over communities and friendships.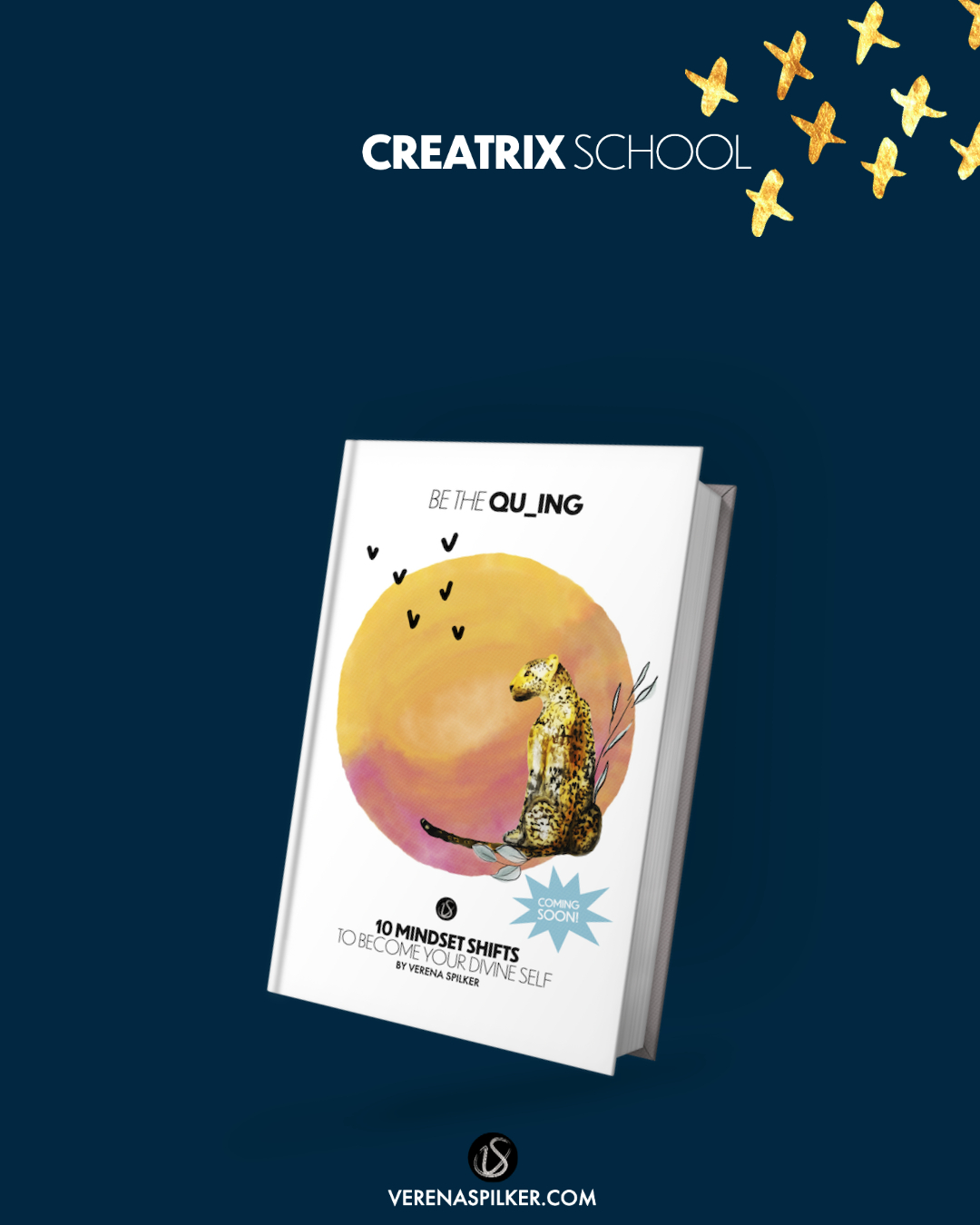 But times are changing and so are we. We can learn to create the bonds we wish for by taking just a few steps and beginning to feel safe to open up about our experiences to others.
And I will show you how in the CREATRIX School.
Become the Qu_ing You were always meant to be
With the Wheel of Colours we will be able to figure out our individual needs, with the Archetype Oracle Cars we will get clear on the kinds of relationships that we want more of in our lives and by forming a CREATRIX Crew, we will begin to build a strong network to support us on our journey from now on.
But it's not always easy to reach out and to start creating the changes we seek.
To help with that, we will also bring in some help from my upcoming book and the Qu_ing Coaching Programme and I will let you in on the secrets you need to know to become a true and fully empowered qu_ing.
What's a Qu_ing?
The word qu_ing is a mix of the word queen and king.
A qu_ing creates their life with clarity, grace and great care. A qu_ing is a person, in their full power, who is living out their highest potential. A qu_ing is generous, present, kind, patient, honest and open.
A qu_ing knows themselves and is excellent at what they do.
A qu_ing knows how to reach any goal they set for themselves with joy and ease.
A qu_ing knows that they are a representation of the divine. And so are you.
And the best thing: any person can be a qu_ing, independent of their sex, gender identity, or where they are and how they feel about their lives right now.
Are you ready to step into your power and live out your full potential?
All it takes is a wish to change your current experience and to allow yourself to experience what else is possible.
If you'd like to join the CREATRIX School – I can't wait to meet you and to welcome you personally.
There are different membership options available for any price level because I believe that this knowledge is essential to living a happy and fulfilled life for everyone – and while it's a shame that we didn't all learn these tools and strategies in school or from our parents – it is available to anyone now, here.
We can all live happy and successful lives, all you have to do is join to start yours.

And if you don't believe me, you can find out for yourself risk-free because if you don't like the course, you have a 30-day money-back guarantee.
Create meaningful friendships with ease
Take a second to imagine what your life will look like once you have your CREATRIX Crew, a group of people you trust, who support you, who cheer you on when you win, listen to you when you need to be heard and help you get back on track when you struggle. How does that feel?
Now imagine that you would also have all the steps laid out for you and tools presented to you to get there in a predictable period of time. You might even be able to find the right people for your crew in the CREATRIX School.
And all you have to do is take the steps, open up and allow for the changes you seek, and then simply watch as things unfold in the best possible way for you.
Wouldn't that be nice?
Hi, I'm Verena. I will be your guide and teacher in the CREATRIX School and I'd love to help you to let this become your new reality.
I'm very happy to say that I have some very reliable and great friendships, which have lasted over decades, but I've also spent a lot of time feeling lonely and like I'm not seen or heard because I wasn't my authentic self and didn't feel safe to share things that would make me vulnerable.
I had to overcome insecurities, confusion, phases of depression and anxiety and a pretty pessimistic world view, to get to a place where I can be my authentic self and the tools I share with you in this course are what helped me to get there.
When I started on this journey, to be honest, I just wanted to be a little bit healthier and happier. You can read a bit more about what that looked like in terms of friendships for me, here.
But after years of research, and training, I found out that with just a few specific changes in the way we think and act, a lot more can change for the better, than I ever thought possible.
And I wouldn't have believed what became possible for me, if I hadn't lived through those changes myself.
I'd love for you to experience the same. Because what is possible for me and others is also possible for you. No matter what you desire, you can and will make it happen, and I'm here to show you how.
I'm super happy to be in a position now to share all that it takes to live a happy and successful, confident, generous and loving life with you in the CREATRIX School.
All you have to do is sign up and let yourself be inspired.
It's been a lot of (joyful!) work to put together this unique and exclusive offer, but you only deserve the very best and have all it takes to create and live the life of your dreams – and, if you wish, you can start today.
I'm looking forward to welcoming you to our wonderful community of people who dare to be generous, happy and free!
If you would like to create new and meaningful friendships, learn what it takes for you to become a great friend and start your own CREATRIX Crew to support others and find support yourself on your journey to become your best self, then this is the right course for you.
This is a one month/ 4 weeks course that will get delivered to you via email and includes everything you need to transform your life. Starting at €19.