Who would you be if you lived out all of your potential?
And how can you develop and live your full potential? It's a good question, isn't it?
Now, of course, it is hard to answer these questions if we find ourselves in a position where we are not living out our fullest potential yet.
But the less we know the answer, the more important it is to ask the question.
Because we do know when we're not actually living up to our full potential, very few of us do, and you most likely wouldn't be here if you thought you already did all you could do.
So exploring this question with joy and ease is how we will eventually be able to know what it means to be in our full power, live our fullest potential and with that, we begin to live the life we are meant to live.
Like Abraham Maslow said: "What one can be, one must be."
Because in the gap between who you are now and who you could be is where all unwanted things reside: insecurity, uncertainty, unhappiness, disappointment, disease and so on.
And moreover, when we are all we can be, we can easily come into flow, become more creative, reach our goals with ease and get everything that we desire in life.
Would you like to start exploring all that is possible for you now?
Then you are invited to the CREATRIX School – to learn all it takes to live a life full of joy, confidence, love and ease and to begin to live as your best self and make use of all of your potential.
Is it time to level up your life?
How do you know if now is the best time to start to explore all of your potential?
You know it is the right time when you are curious, when you find yourself asking what else is possible for you or think that there must be more to life than what you already have.
Excuses as to why now is not the right time will or may always come up, but they are just what they are, excuses.
Because in the end, this is your life and the sooner you start to develop and live all that you possibly can be, the sooner you will be able to enjoy the benefits of that as well.
So, the best day to start is always today.
And lucky for you, you can sign up for the
CREATRIX School
, any time and get started right away. In the
CREATRIX School
, we explore a different topic each month, and the topic in January, which this is the introduction for, is
Self-Actualize!
In this introduction, I will show you a way to get started with exploring your full potential today, and I will also show you how you can learn to become all of what is possible for you in the
CREATRIX School
.
How to start to explore all of your potential
There are three elemental steps to achieve anything we want in life.
The first one is to explore what we have now. Here we can start to think about what we like and what we don't like about what we have now, to make sure that we will keep what we like and maybe even invite more of that into our lives.
The second step is to let go of what we don't like, don't need, what doesn't serve us any more. This way we create space for more of what we do want and it allows us to move in the desired direction.
The third step then is to really focus on what we want more of in our lives, and to then start creating a solid plan for how to get exactly that.
Sounds simple enough, right?
But unfortunately, in our daily lives, it's too easy to lose track of what we want to change by reacting to the demands that come up and therefore we too easily fall back into old patterns, if we don't also give some structure to allow for the changes we seek to manifest.
Which is what we do in the CREATRIX School with weekly content, questions, exercises and bi-weekly Q&As. By following along, you will have the reminders and encouragement you need to make the changes stick.
When it comes to self-actualizing and living out our fullest potential, we will take a look at all parts of our lives to find out which areas we would like to focus on the most, as well as on our character and on the way we move and are in the world in general.
Which leads us back to the first question: Who would you be if you lived out your full potential? And to begin to get there, we break it down a bit by asking:
Where are you already living out your full potential?
And where could you use some focus and help?
A good tool for getting a general idea about where you are in life is the WHEEL OF LIFE, which you can download for free today, to get an overview of your life right now.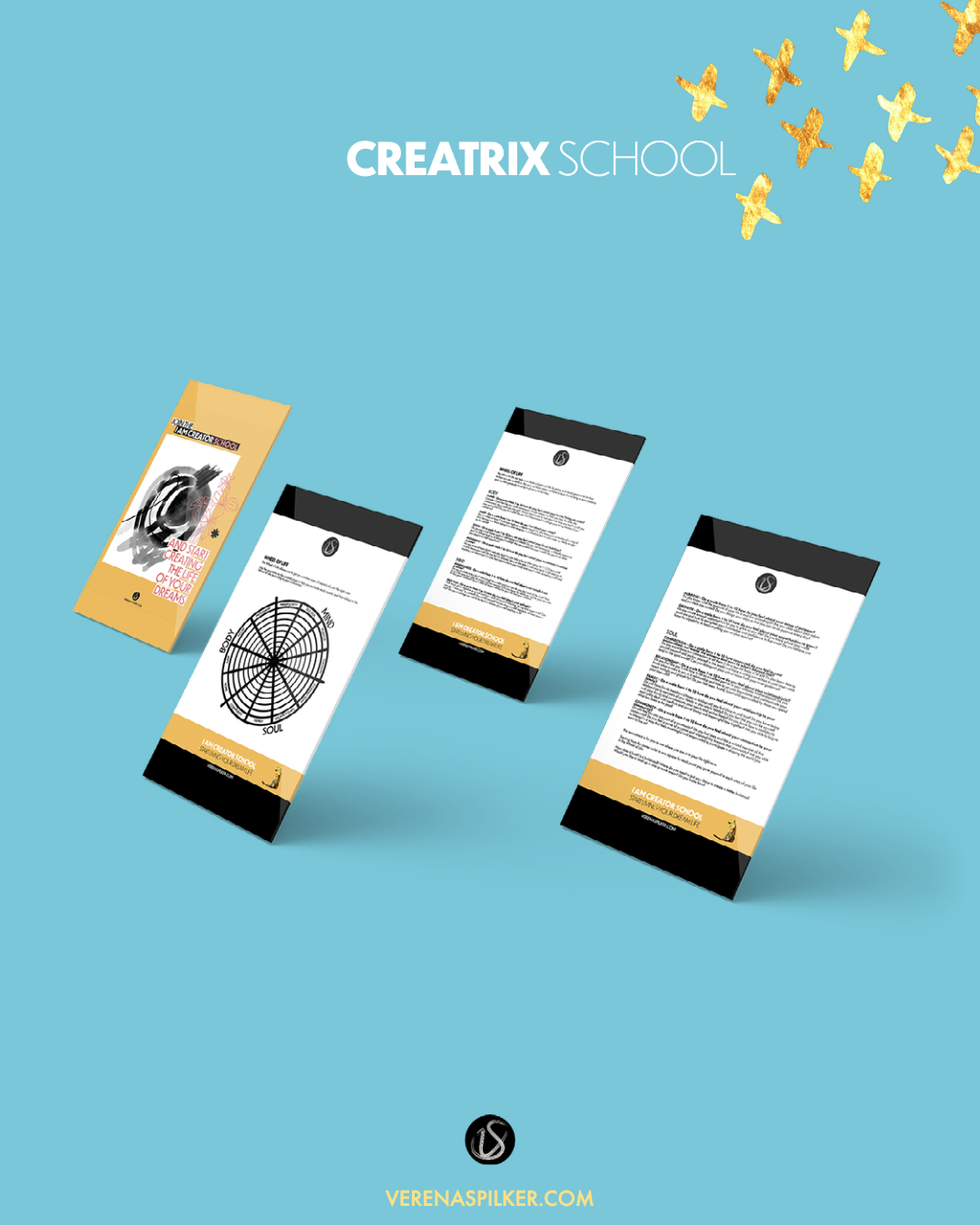 The Wheel Of Life
The Wheel of Life can help us to create a balanced life, by giving us a visual perspective on how bumpy our ride currently is.
This way we know where we have to focus first to bring in more balance and can then gradually level up in all areas of our lives.
You can download the WHEEL OF LIFE Worksheet here.
When you answer the questions that come with it, you will see very clearly which areas of your life are already pretty balanced and where you could take action to feel better and to live with more confidence, joy and ease.
Then, once you have narrowed down on where you want to focus, we will start to create some actionable plans to bring in the balance in your life that you seek.
For that, I will share with you the science of creating actionable plans in the CREATRIX School.
Because we need a clear vision and a great plan to reach all our goals, live our full potential and start creating the life of our dreams.
And making a plan can be a lot of fun and will help us to create the changes we seek, in any area of our lives.
Nothing is more thrilling than feeling like the powerful creators of our lives, which we are born to be, and can be once we close the gap and begin to live our full potential.
And this is absolutely doable for anyone, no matter where in life you are right now.
Too often we don't dare to dream big enough, or are too impatient, or simply don't know how to make a plan that we can actually see through to the end.
Creating a plan for our lives which truly delights us is an essential part to feeling empowered and to being in the flow.
Because if it delights us, it attracts what we want and allows us to reach our goals with ease.
This makes less effort and energy necessary, and replaces stress, anxiety and trying with more joy, ease, confidence and allowing.
And the CREATRIX School offers the unique opportunity and guidance to walk you through this step-by-step.
Why do people find it difficult to make a plan and to stick to it
The reason why most people fail to reach their goals, stick to their plans, or live out their highest potential is because their vision of the desired outcome isn't strong enough.
Or because they are not patient enough and want too much too fast.
The opposite of this can also be true. You might not reach high enough, or be honest enough to allow for your true desires, so as a result, you are not motivated enough to keep up the hope or belief.
Does this resonate?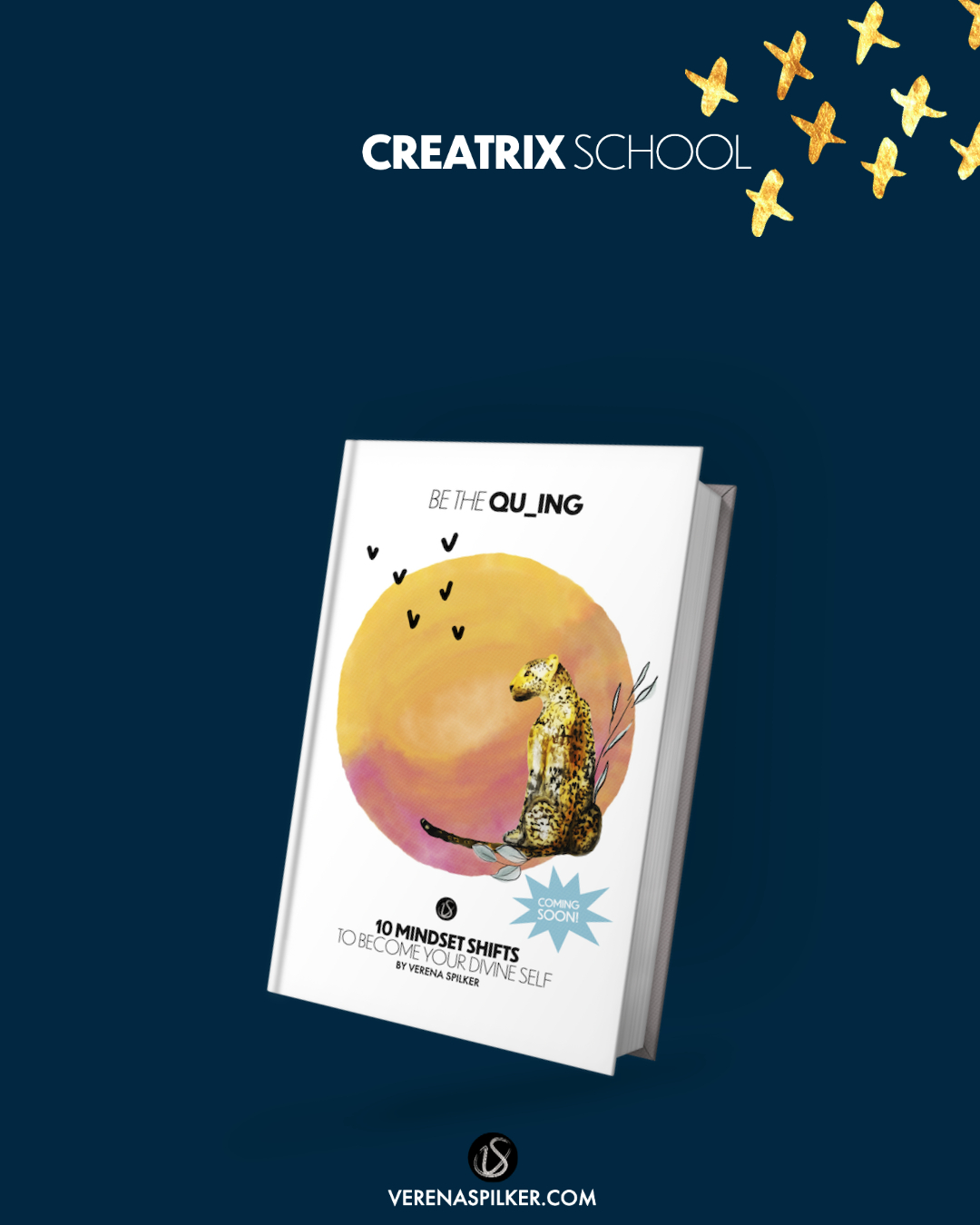 Become the Qu_ing You were always meant to be
With the WHEEL OF LIFE, you will be able to get a great overview about where you are in life right now and which gaps you might want to work on.
Maybe you want to work on your workout routine, your nutrition, your financial situation, your family life or your relationship – whatever it is, we will focus on it in the CREATRIX School.
Once you have more clarity on your overall situation, it's time to think about who you would like to be as a person in general.
How do you want to present yourself, live your life and be seen by others?
Here we bring in some help from my upcoming book and Qu_ing Coaching Programme and I will let you in on all the secrets you need to know to become a qu_ing.
What's a Qu_ing?
The word qu_ing is a mix of the word queen and king.
A qu_ing creates their life with clarity, grace and great care. A qu_ing is a person, in their full power, who is living out their highest potential. A qu_ing is generous, present, kind, patient, honest and open.
A qu_ing knows themselves and is excellent at what they do.
A qu_ing knows how to reach any goal they set for themselves with joy and ease.
A qu_ing knows that they are a representation of the divine. And so are you.
And the best thing: any person can be a qu_ing, independent of their sex, gender identity, or where they are and how they feel about their lives right now.
All it takes is a wish to change your current experience and to allow yourself to experience what else is possible.
Are you ready to step into your power and live out your full potential?
Then come and join the CREATRIX School now.
There are different membership options available for any price level because this knowledge is essential to living a happy and fulfilled life and while it's a shame that we didn't all learn these tools and strategies in school or from our parents – it should be available to anyone now.
We can all live happy and successful lives.
Set and reach your goals with ease
Take a second to imagine what your life will look like when you are happy and free and allowing all of your potential to surface and be put to good use. How does that feel?
Now imagine that you would also know that you could get there in a predictable period of time, by inviting gentle but effective changes into your life, developing a clear vision of what you want, training your mind, body and soul to support you in the best possible way and then simply watch as things unfold in the best possible way for you.
Wouldn't that be nice?
Hi, I'm Verena. I will be your guide and teacher in the CREATRIX School and I'd love to help you to let this become your new reality.
For most of my life, I did not live out my full potential and had to deal with the resulting consequences: insecurities, confusion, phases of depression and anxiety and a pretty pessimistic world view.
But at some point, I realized that I did not want to continue like that and began to find out what it takes to live my best life.
To be honest, in the beginning, I just wanted to be a little bit healthier and happier.
But after years of research, and training, I found out that with just a few specific changes in the way we think and act, everything can change for the better.
And I wouldn't have believed what became possible for me, if I hadn't lived through those changes myself.
I'd love for you to experience the same. Because what is possible for me and others is also possible for you. No matter what you desire, you can and will make it happen, and I'm here to show you how.
I'm super happy to be in a position now to share all that it takes to live a happy and successful, confident, generous and loving life with you in the CREATRIX School.
All you have to do is sign up and let yourself be inspired.
It's been a lot of (joyful!) work to put together this unique and exclusive offer, but you only deserve the very best and have all it takes to create and live the life of your dreams – and, if you wish, you can start today.
I'm looking forward to welcoming you to our wonderful community of people who dare to be generous, happy and free!