Let's explore our relationships
Today, at least in some places in this world, we have the freedom to choose our partners ourselves, and we can theoretically decide what we want our relationships with our partners to look like.
Our partners can be of any gender, and we can choose if we want to be in a polyamorous or a monogamous relationship – and what that means to us.
The choices are ours to make, if we become conscious and aware of our options, but what often makes relationships of any kind most complicated is our struggle with self-worth, self-love, expectations, hope, disappointment and communication.
Yet, it doesn't have to stay that way – even if that is all we have experienced until now.
In this chapter of the CREATRIX School we will explore our (secret) desires, make peace with past relationships & experiences and work on creating the self-love, confidence & communication skills we need to have all we wish to have in our relationships.
It's the new way to live, and it's available to all!
Have you found your soul mate(s) yet?
Are you looking to create more intimacy with your partner(s)?
Would you like to learn how to explore and safely communicate your desires and wishes?
In short:
Do you feel like it's time to really be yourself in your relationships so that your needs can be met, and you can love freely while living a happy, healthy, balanced and joyful life with the partner(s) of your dreams?
If you are curious to find out how that might be possible for you, then I'd love to invite you to this new chapter in the CREATRIX School.
See All Lessons
Welcome to a New Chapter in the CREATRIX School
This month we are going deep to discover our wishes and desires when it comes to love and relationships, look at the roles we've outgrown and what we need to also get what we wish and desire.
So that from now on, we can give and receive love freely and joyfully in our relationships.
read more
Practice:
Releasing stuck emotions
Ritual:
Treat yourself like someone you love
Recipe:
Hildegard's cookies for the heart
If anyone can learn this, why aren't they?
Because many people don't believe that they have the power to change their lives. Even if they haven't even tried.
There's a certain comfort in not taking full responsibility for the situation we're in, by blaming our circumstances, upbringing or current world events – and pretending that it's not up to us to create the changes we need and seek.
But if we want to create changes, it's always up to us to start – no one will do it for us.
The CREATRIX School will teach and demonstrate to you nothing more revolutionary than that you have the power to change anything you don't like about your life.
It's nothing you can't figure out by yourself, but it might take you a lot longer, and I'd be happy to guide you through the process, as I just went through it myself.
To create the changes, we wish for, we have to take full responsibility for our lives and begin to be completely honest with ourselves.
From here we can find our own unique ways to be ourselves, to laugh, to love, to learn, to open up and to enjoy trying something and failing at it, as much as our winning.
Everything in life happens for us, not to us, every experience, everything we try and fail at, helps us to learn and grow and be better next time.
Because that's what we are here for, to show and share our unique gifts and beauty, and to grow and learn and contribute for the greater good for all.
If we begin to see our self-actualization journey this way, it also allows us to open up to joy and love and abundance in our lives.
Again, anyone can do this, but it will take some practice and encouragement, that can be hard to bring up on your own.
Most people simply don't know where to begin or what to do exactly, and don't have the money to work with a personal coach or teacher on these topics individually.
Which is precisely why I founded the CREATRIX School.
This way, I can guide you through every step you need to take to get to where you want to go and bring clarity, confidence, joy, relaxation, abundance and playfulness into every area of your life – without having to pay full price for a personal coach.
Because, as every good coach will tell you, we are here to ask you the right questions, the answers you will always have to find for yourself.
And you do already have the answers, you just haven't taken the time to ask them and to listen to your answers yet.
Is this the right course for you?
You have everything it takes to live the life your soul desires, that makes you happy and fulfils you.
And the more you recognize and live that, the more confidence you find in walking your unique way, and the more balanced your life will become.
The questions we have to answer to live a fulfilled, happy and successful life and to create the loving, kind, open and supportive relationships in our lives that we seek, are the same for almost every one – they have been asked again and again over centuries by wisdom seekers all around the world.
And now it's your turn to answer these questions so you can walk through life with certainty, confidence and feeling that you belong and are exactly right as you are.
Because once you have answered the questions that determine your life for yourself and by yourself, you will find peace and calm and a sense of safety and clarity, that is difficult to imagine possible before you do.
It's something I wouldn't have dared to imagine possible before I started my own self-actualization journey.
I was pretty insecure, doubtful and unhappy in my past. But without that past, I wouldn't be here now – I wouldn't know what it took to get here and what kind of change is possible.
I've learned a lot because of the hardships I endured in my past, especially from the most difficult parts, and I'm happy about everything that has happened in my life, even when it hurt really bad.
With every hurdle I overcame, new powers emerged and with every valley I crossed, the horizon opened up and showed me new options.
Today, I truly enjoy every step I take because I know it is and will continue to be worth it.
And I'd love for you to be able to develop this sense of ease and joy about everything that happens in our lives as well, because we are all here to explore, learn and grow and not to have it all figured out already.
If you believe new opportunities are waiting here for you, if you'd like to start building a deep-rooted trust in yourself and your abilities – then this is the right course for you.
All you have to do is get started.
Isn't it selfish to focus on myself?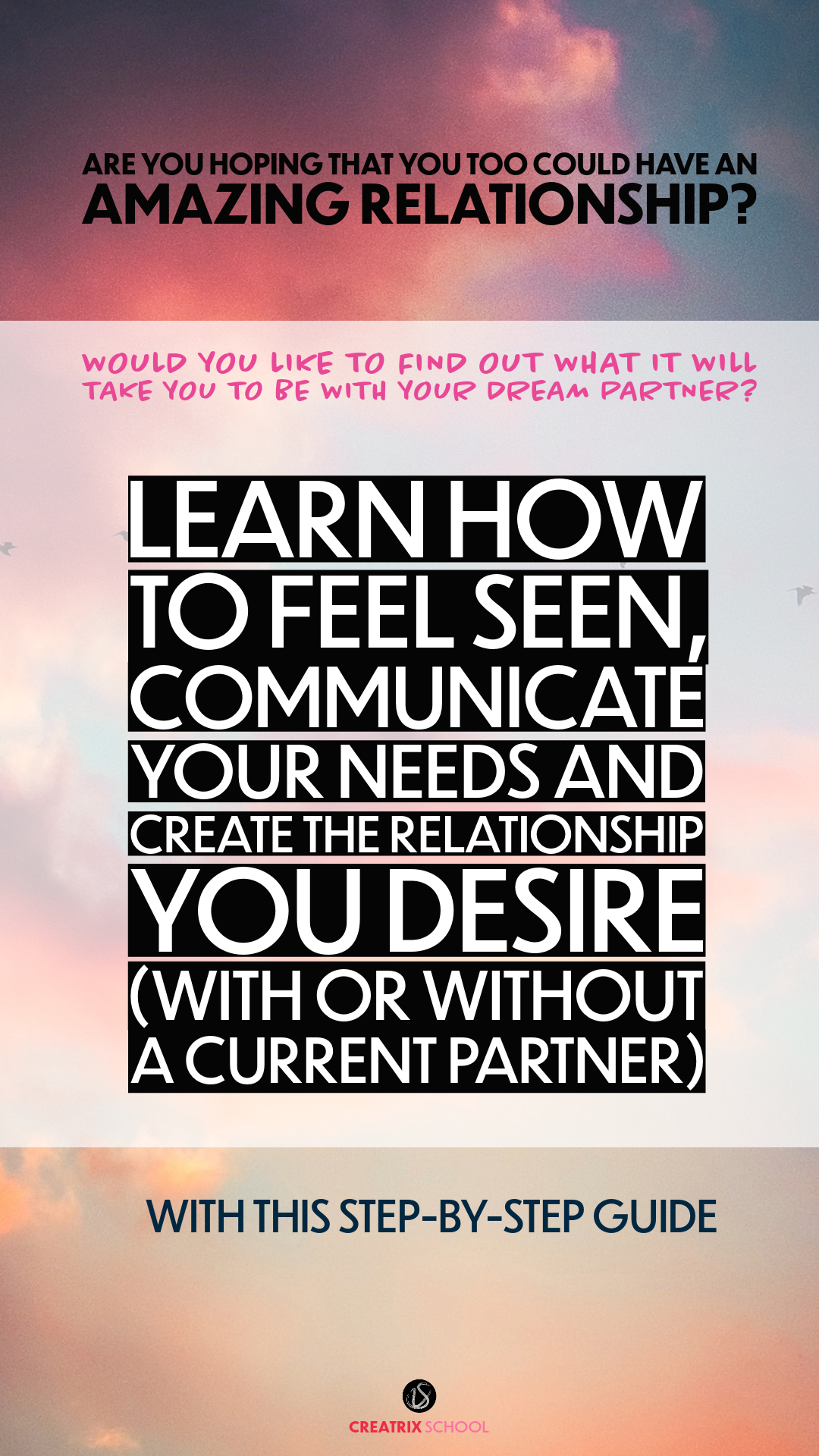 Especially when there are other people out there who are struggling much more?
If you ask this question, aren't you struggling yourself?
Don't you find it difficult to sleep peacefully at night because you worry about your personal situation and/or the state of the world?
The thing is, we can only safely reach out a hand to other people if we stand strong ourselves.
It's the same reason why we are told to put an oxygen mask on ourselves first, before we help others – because if we don't have air, or energy or love, or food or hope to sustain ourselves, we cannot inspire and support other people.
Equally, we can only create a better and more equal world, if we all have access to all the resources we need to live free, happy and abundant lives.
It's why I will always encourage you to share everything you learn here with other people.
The truth is that to create change on the larger scale, we always have to start with ourselves.
If we are strong, we can act powerfully, if we know how to be healthy, we can share that knowledge with others, if we love ourselves, we can share and give and receive love freely as well and that's the only way it will multiply indefinitely.
If we want to help other people, we first have to know how to take care of ourselves – so it's never selfish to learn how to take good care of ourselves.

Everybody can have their dream job, live in their dream home and live and experience peace and joy, we just don't all know how yet.
But you can make a start, just like I did some years ago, and then begin to share your knowledge with confidence and experience so that, over time, all people who are interested and ready, will have the knowledge and ability to live self-actualized, happy, healthy and successful lives.
In the end, it is up to you to decide if it's time to start living and growing with ease and to live a life that matches your desires. No one will stop you, but you.

If you let other people and their opinions hold you back, it will not make you or them any happier or help you or them.
But if you want to begin changing your life for the better and inspire others to do the same – because they will see you change and shine and thrive, then you can book the Energize! / Relationships course individually or join the CREATRIX School, to bring clarity, confidence, joy and abundance into every area of your life for one full year.
And you can try this risk-free, by taking advantage of the free 30-day trial.
Is now the best time to start?
You know that now is the right time to start opening up to the relationships you desire when you think that being in a relationship where you feel seen heard, understood, supported and loved is what you would like to have.
Excuses as to why now is not the right time will always come up, but they are just what they are: EXCUSES.
In the end, the sooner you start to create a life according to your soul's desire and align your body, mind and soul for your highest good, the sooner you will be able to fully enjoy your life it as well.
So, let me give this question back to you: Is it time for you to live and love in a way that nourishes you and makes you feel safe, happy, loved and at ease?
Then, yes, this is the very best time.
Am I the right guide for you?
Hi, I'm Verena and I have to admit that this is not an easy topic for me. But I also don't let my fear stop me from opening up to new possibilities any more.
Yet, I cannot tell you the story of how I met the love of my life and that we've been together happily ever after (yet).
My last long-term relationship ended more than two years ago, and while I've been dating since and learned a lot from that, I'm also a bit excited about this course myself because I have learned from the last six courses I've created for the CREATRIX School, that when we consciously put our attention somewhere, things change for the better.
The CREATRIX School has and had an immense positive impact on my life as well.
And not just on mine. 
While I may or may not have the relationship I wish for with another person yet, I do have something that I never thought I would ever have and that is a wonderful, kind and loving relationship with myself.
Over the last couple of years, actually, ever since my last breakup, everything has changed for me.
I've asked myself what I wanted for the first time, not what I thought I should have or be or what other people needed me to do or be, and I've completely changed the way I talk to myself.
I also know now that I can trust my inner guidance system 100%.
I also don't create these courses alone, or based on my knowledge alone.
I get to channel a lot of the information, and it often feels more like I am guided through the process by my guides and the greater consciousness, so we can all be sure that all the most relevant information will be received.
This way it's always an interesting and surprising process for me as well, and I honestly can't wait to embark on this journey with you and see what it will result in.
If you're interested in my formal qualifications, then you can find them on the about page.
I've entered on my journey to become who I am now because I just wanted to be a little bit healthier and happier.
And so I began to look for ways to be that, which quickly turned into a couple of years of research and training.
I have an M.A. in cultural anthropology and political sciences, so how people work in this world has always been my main point of interest.
But what I found out in the last couple of years of research, and what I didn't learn at University, is, that with just a few specific changes in the way we think and act, everything in our lives can change for the better – and this is true for anyone who is willing to be honest with themselves and who is not afraid of change.
We can all live abundant, happy and healthy lives – all we have to do this is to find out how and then practice it.
And we can also open up to love and healthy relationships – by beginning to create a healthy relationship with ourselves, tuning in to our desires and inner knowing, becoming more confident and loving and, most importantly, by allowing ourselves to receive.
So if you are looking to meet the love of your life, or just the love for the next while or if you'd like to mend a relationship that doesn't make you completely happy (yet) – (and I can literally see your soul dancing and saying yes!) then I'd be happy to guide you through this process of self-actualizing, becoming your best self, or your qu_ing self and begin to live the life, you know you are meant to live and open up to love fully and freely.
And I can't wait to welcome you to the CREATRIX School and to grow our wonderful community of people who dare to be generous, happy and free!