Do you sometimes wonder why your family situation is so complicated?
The good thing is, that no matter what your situation is now, you have the power to change it for the better. And I'd be happy to show you how.
What causes most of our human suffering is the feeling of disempowerment.
If we ask ourselves: Why am I here? Why is this happening to me? Why is this so complicated?
Then the reason for asking that question, more often than not, is because we feel like we are the victims of our circumstances and don't feel like we have the power to change our situation.
We think that things are happening to us, not for us. But the second we take full responsibility for the situation we are in, we can also begin to change it.
And the same is true for the family situation we find ourselves in.
We all have the power to change it to become exactly what we would like it to be, if we shift our focus from the people who are currently in it to the qualities we would like to cultivate.
Would you like to start creating your ideal family situation?
Then you are invited to the CREATRIX School – to learn all it takes to make peace with your current family situation and start creating the family of your dreams.
Is it time to start creating the changes you'd like to see?
Are you wondering how you know that now is the best time to start to create the changes in your family life that you seek?
You will know that it is the right time when you feel like you don't want to continue to worry or feel hopeless or resigned with the way things are now or have been going so far.
To dare to change something that has been a big part of your life for as long as you remember might seem scary or pointless, yet I dare you to try, as it is very possible to change things and it is very freeing to feel empowered again.
Excuses as to why now is not the right time or why it is impossible to do will always come up, but they are just what they are, excuses.
Because in the end, this is your life and the biggest regrets most people have at the end of their lives is about not having tried or dared to change things for the better and not about trying something and failing.
And the chances are very high that you might even succeed in creating the changes you seek, if you start to see things from a new perspective.
Luckily, you can sign up for the CREATRIX School, any time and get started with creating the changes you seek, today.
In the CREATRIX School, we explore a different topic each month, and the topic in June, which this is the introduction for, is Family // Relax!
In this introduction, I will give you an idea of what it might take to start creating your ideal family, and I will also show you how you can start implementing the necessary changes in the CREATRIX School.
You can now also buy this course as an individual 4-week course.
How to start to create your ideal family situation
There are three elemental steps to achieve anything we want in life.
The first one is to explore what we have now. Here we can start to think about what we like and what we don't like about what we have now, to make sure that we will keep what we like and maybe even invite more of that into our lives.
The second step is to let go of what we don't like, don't need, what doesn't serve us any more. This way we create space for more of what we do want and it allows us to move in the desired direction.
The third step then is to really focus on what we want more of in our lives, and to then start to open ourselves to it emotionally so that the perfect plan can unfold.
Sounds simple enough, right?
But unfortunately, in our daily lives, it's too easy to lose track of what we want to change by reacting to the demands that come up and therefore we too easily fall back into old patterns, if we don't also give some structure to allow for the changes we seek to manifest.
Which is what we do in the CREATRIX School with weekly content, questions, exercises and bi-weekly Q&As.
By following along, you will have the reminders and encouragement you need to make the changes stick.
When it comes to creating our ideal family situation, this means thinking about the qualities you value when it comes to family.
How have you grown up, and what did you like about it?
What did you feel you were missing, and how can you create that today?
Using the help of my Archetype Oracle Deck, we will evaluate the roles you played in your family as a child and after that move on to find out which roles you would like to inhabit today.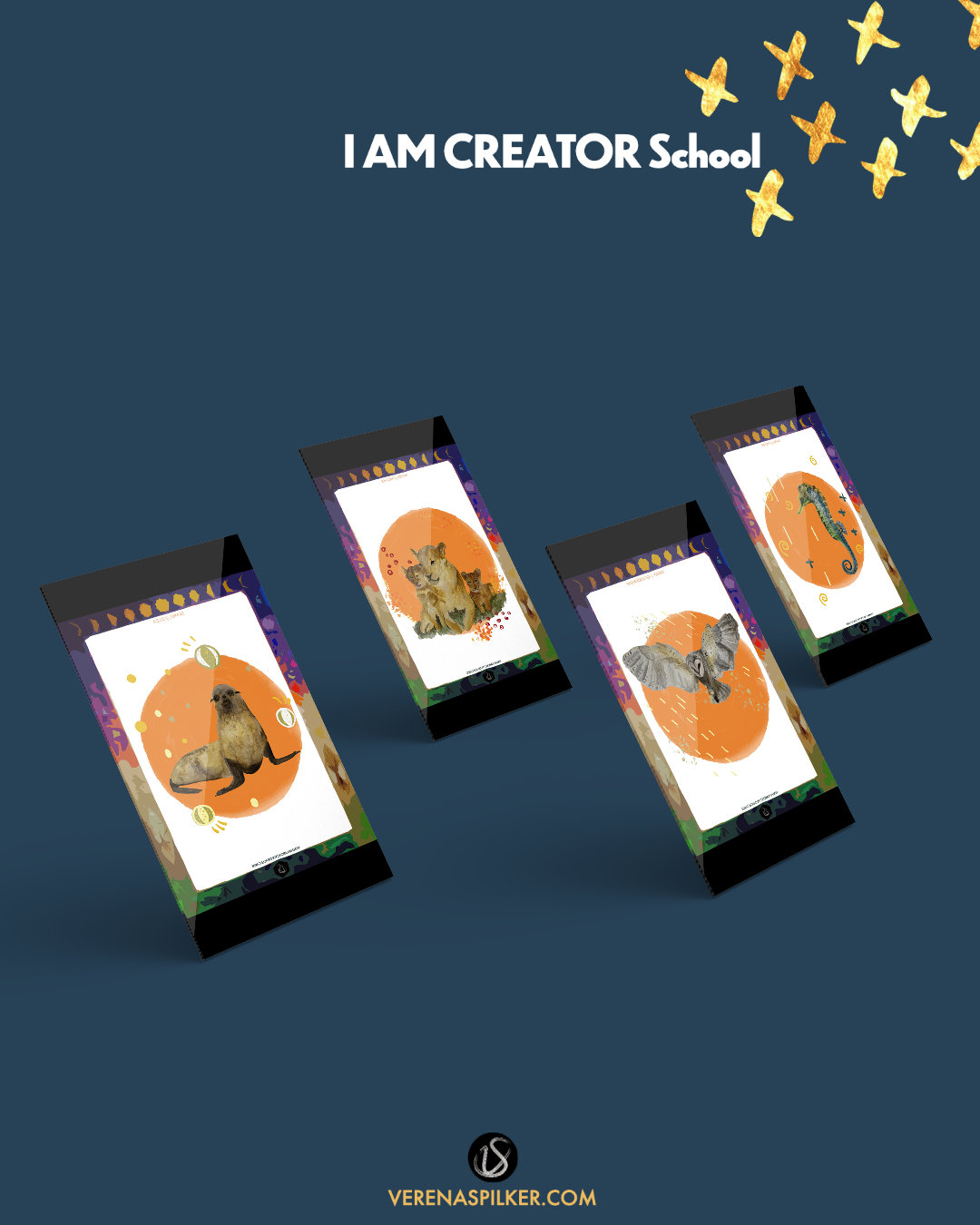 Archetype Oracle Cards
Working with the Archetype Oracle Cards in general, and also with the Inner Child and Family Archetypes in particular, can support you in resolving family issues by giving you the clarity you need to see yourself and your roles in your family with the necessary distance.
By looking at the different archetypes, our experience becomes less personal and, with that, more relatable and changeable.
More often than not, all it takes to resolve a complicated situation is to fully acknowledge and accept it, to define which elements are changeable and which are not and then to begin to take the right action where we can.
With the help of the Inner Child Archetype Oracle Cards, we will find out about the roles we took on in our life so far, see what we've learned from them and begin to see how even our most difficult lessons might have been a blessing in disguise.
From here, we will go a step further and see what happens if you were to consider that it was actually our active choice to be born into exactly the situation we were born into, before we came to this earth.
As I said in the beginning, most of the time we struggle with a situation because we don't think we should be in it, or that we cannot get ourselves out of it – because we disempowered.
So if we change our perspective and consider that we did actually actively choose the situation we are in, then we can begin to see why we faced the obstacles we did, and how we can actually alchemize these experiences into something good, resolve what has been bothering us and begin to make peace with any situation we find ourselves in.
Why people find it difficult to resolve their family issues
We live in a complicated world, in which very few people have learned to communicate honestly and openly about their feelings and perceptions and are conscious enough to own their mistakes.
Past and present generations have experienced or are experiencing (the effects of) wars, colonialisms and all kinds of forms of oppression and hardships.
Not all people had or took the opportunity to resolve their traumas, but we can. 
If we don't, we will continue to pass them on to the next generations to cause more hardship and suffering. But we have a choice.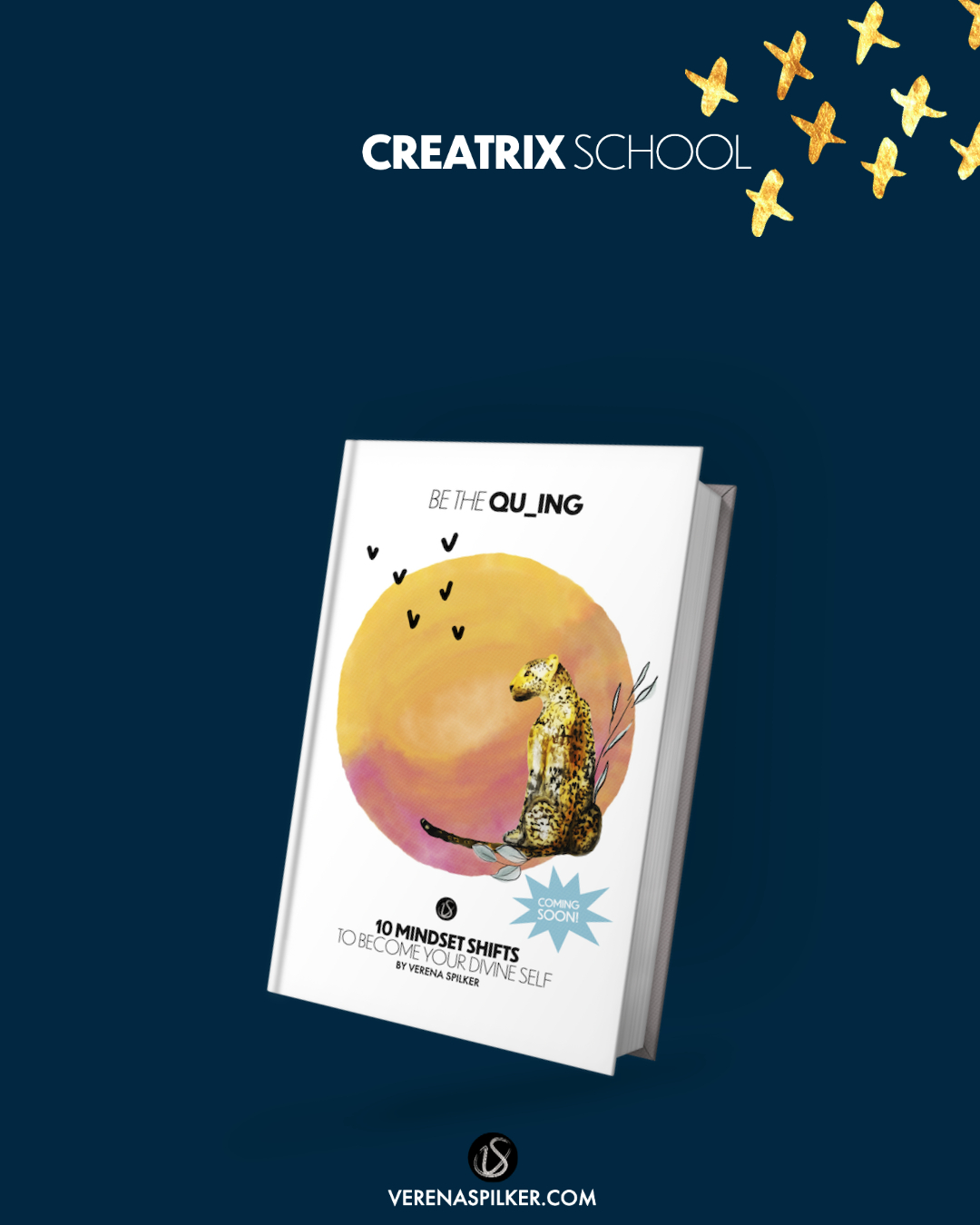 The majority of all people today have grown up in families with unresolved trauma.
And while our parents and their parents and their parents always did the best they could, they had no chance to model a healthy relationship for anyone if they had never seen or experienced one themselves.
So, while they fought their own battles and tried to free themselves from the hardships and difficulties they've experienced, we are now here to resolve our part.
And for that, we have to forgive unconditionally. This doesn't mean to imply that violent or abusive behaviour was ever OK, but to free ourselves from the bonds of it.
Or to say it in other words: "Radically accept that it wasn't OK, but it's all OK now." (from Sophia Spallow's song My Healing)
Become the Qu_ing You were always meant to be
One of the ten mindset shifts I offer in my upcoming book and Qu_ing Coaching Programme is that, everybody is always doing the best they can in any moment, including you.
Of course, we all make mistakes, but every mistake we make is necessary for us to learn what we need to learn.
And the same is true for all our family members.
So if we want to make peace with our family situation, we will have to acknowledge that everybody is and has always been doing the best they can, and that we can not change the past, but we can determine what we want our presence and future to look like.
So, what would a qu_ing do?
What's a Qu_ing?
The word qu_ing is a mix of the word queen and king.
A qu_ing creates their life with clarity, grace and great care. A qu_ing is a person, in their full power, who is living out their highest potential. A qu_ing is generous, present, kind, patient, honest and open.
A qu_ing knows themselves and is excellent at what they do.
A qu_ing knows how to reach any goal they set for themselves with joy and ease.
A qu_ing knows that they are a representation of the divine. And so are you.
And the best thing: any person can be a qu_ing, independent of their sex, gender identity, or where they are and how they feel about their lives right now.
All it takes is a wish to change your current experience and to allow yourself to experience what else is possible.
Are you ready to step into your qu_ing power and live a life by your design?
Then come and join the
CREATRIX School
now. There are different membership options available for any price level because this knowledge is essential to living a happy and fulfilled life and while it's a shame that we didn't all learn these tools and strategies in school or from our parents – it should be available to anyone now.
We can all live happy, fulfilled & successful lives.
Create the family you always wished for
Take a second to imagine what your life will look like when you are at peace with all that was in the past.
When you can acknowledge that you are here now as the beautiful and wonderful and talented person that you are, exactly because you lived through everything that has happened to you.
How does that feel?
Now imagine what you would like to have when it comes to your family.
Not thinking about a different past, but developing a clear picture of what you want to have in the future.
And then begin to take the first steps by feeling how that would feel, and mentally move in that direction to allow for things to unfold in the best possible way for you.
Now, ask yourself: Are you ready to also take action and start creating the family life you've always wished for?
Hi, I'm Verena. I will be your guide and teacher in the CREATRIX School, and I can't wait to see you make all your dreams come true.
For most of my life, I felt like the outsider in my family, like I didn't really belong. And as a result, I tended to think that I just wasn't meant to be happy or to have a family on my own.
But at some point, I too realized that I did not want to continue like that and began to find out what it takes to create what I wished for.
And to be honest, initially, I had no idea if that was even possible.
But after years of research, and training, I found out that with just a few specific changes in the way we think and act, everything can change for the better.
When it comes to creating the family of my dreams, I haven't reached my goals yet because these changes take time, but I am so much closer than I've ever been and my quality of life has improved drastically.
And I wouldn't have believed what became possible for me, if I hadn't lived through those changes myself.
I'd love for you to experience the same. Because what is possible for me and others is also possible for you. No matter what you desire, you can and will make it happen, and I'm here to show you how.
I'm super happy to be in a position now to share all that it takes to live a happy and successful, confident, generous and loving life with you in the CREATRIX School.
All you have to do to begin creating your ideal family situation is to sign up and let yourself be inspired.
It's been a lot of (joyful!) work to put together this unique and exclusive offer, because you only deserve the very best and have all it takes to create and live the life of your dreams – and, if you wish, you can start today.
I'm looking forward to welcoming you to our wonderful community of people who dare to be generous, happy and free!
Learn how to make peace with any Family situation and create the family you always wished for
We find ourselves in an incredible moment in time, one where we can break with generational trauma and negative patterns, that have been limiting us, humanity, for centuries. Let's explore how we can transform our family relationships and create new possibilities for ourselves and future generations.