What are you meant to do in this lifetime?
It seems like knowing our life's purpose would be the most obvious thing. But sadly, for many it is not.
I had no idea what my real purpose in life was until I turned 42. But we are all on our own timeline, so that's OK.
The best time to get clear on these things is always now.
And the next best time to find an answer to this question will be the next time you wonder why you are actually doing what you're doing and what the purpose of all of this is.
I've been looking for a meaning or the purpose of my life for 40 years, and I can only tell you that finding the answer was the biggest gift I could have ever given to myself.
So, I hope you will feel equally happy and empowered, after this month in the CREATRIX School.
However, first, let's get clear on what we are actually talking about.
Because we all have the same purpose in life.
We might have different abilities, callings, wishes, visions, values, ideas and all of that, but the purpose in life is the same for every human.
Have you ever wondered about the purpose of a flower? Or a tree? Or a bird? Or a song?
The purpose of grass is to be grass, the purpose of the sky is to be the sky, the purpose of all elements is to create life and the purpose for us as humans is to experience our potential as a human to the fullest.
We all came here to experience life in physical form. To feel, to laugh, to cry, to eat, to dance, to sing and to learn and to grow.
So that we can all evolve together and come to live with more peace, joy and harmony.
Which means that to be on purpose is theoretically not a complicated thing. We simply have to live and embody love, joy, peace and abundance.
But then, for most of us, that is easier said than done.
I always like to ask: How would you want the person you love the most to feel? What would you want for them to experience?
And whichever answer you come up with to that question is most likely your purpose, and what you can now learn to feel and do and be yourself.
Because the work always starts with ourselves.
We cannot give or share something we don't have/live/practice or enjoy ourselves.
But how do we actually do that?
How can we free ourselves from the things that weigh us down and limit us so that we can begin to really enjoy life, like we're meant to do, and live with joy, ease, love and abundance?
Would you like to find out and start living your purpose now?
Then you are invited to the CREATRIX School – to learn all it takes to live a life full of joy, confidence, love and ease and to begin to live your purpose and to discover your unique calling.
Is it time to level up your life?
How do you know if now is the best time to start to live your purpose and to discover your unique calling?
You know it is the right time when you are curious, when you find yourself asking what else is possible for you or think that there must be more to life than what you already have.
Excuses as to why now is not the right time will or may always come up, but they are just what they are, excuses.
Because in the end, this is your life and the sooner you start to understand your true purpose and know how to live it, as well as find out what your unique calling is, the sooner you will be able to enjoy the benefits of all of that as well.
Is it time for you to discover all that you are?
Then, lucky for you, you can sign up for the CREATRIX School, any time and get started right away. Or you can buy this course individually as well.
In the CREATRIX School, we explore a different topic each month, and the topic in July, which this is the introduction for, is Believe!

Because without believing that we have a purpose, and a calling, we don't.
In this introduction, I will show you why it makes sense to believe that we do, and how to use this understanding so that we can live happier and freer lives, as well as how you can learn to live your purpose and your calling and with that, step into your full power, and gain full control of your life, in the CREATRIX School.
How to start living your purpose
I quite like the expression: to be on purpose.
To act purposefully, to be aware, to give meaning to what we do.
To live our purpose essentially means to live mindfully, to become aware of why and how we act and how we can influence that so that it serves us and all around us.
For this, we will utilize the three elemental steps to achieve anything we want in life.
The first one is to explore what we have now. Here we can start to think about what we like and what we don't like about what we have now, to make sure that we will keep what we like and invite more of that into our lives.
The second step is to let go of what we don't like, don't need, what doesn't serve us any more. This way we create space for more of what we do want and it allows us to move in the desired direction.
The third step then is to really focus on what we want more of in our lives, and to then start creating a solid plan for how to get exactly that.
Sounds simple enough, right?
But unfortunately, in our daily lives, it's too easy to lose track of what we want to change by reacting to the demands that come up and therefore we too easily fall back into old patterns, if we don't also give some structure to allow for the changes we seek to manifest.
Which is what we do in the CREATRIX School with weekly content, questions, exercises and bi-weekly Q&As. By following along, you will have the reminders and encouragement you need to make the changes stick.
When it comes to living our purpose, we will zoom in on our happiness and what it will take for us to truly be ourselves, be there for ourselves, to feel anchored and supported and to create a set-up which will make us fully interdependent so that we can be and act purposefully at all times, understand that we & our actions and outcomes are bound by karmic laws and that we have full responsibilities for our lives.
When it comes to finding our unique calling, we will explore different tools that can help us to access our subconscious and with that, our access to the collective consciousness, the akashic records or the universal knowing.
We will look at astrology, and how we can work with the four elements, that we are made up of: earth, water, fire and air.
We will look at numerology and how that can support us in our lives, how the enneagram can help us to understand ourselves better, how we can use meditation and visualizations and how we can get more in tune with our inner voice and intuition to help us and guide us to discover all we need to know to fully become ourselves.
Another great, in my opinion, one of the easiest and best ways to find out, all you need to know about yourself and to live more purposefully is by getting your WHEEL OF COLOURS, which you can order from me, to get a better understanding of your calling today.
The Wheel Of Colours
As humans, we all have the same basic needs.
We need love, food, a roof over our heads, we need to be able to develop and grow and to express ourselves in meaningful ways.
How we experience and share love, which food we need or love, how we live, what we learn and how we express ourselves in this world, is different for each and every one of us.
Do you know what it is that you need in any or all of these situations?
We often spend a large part of our lives trying to figure out exactly what we need, and in some areas of our lives we fail again and again until we have found out.
Wouldn't it be nice, to have a kind of instruction manual that tells you how you work and what you need in different situations?
The Wheel of Colours can be seen as such an instruction manual.
Not only that, it can also help us to discover our calling, or one of our callings, and help us to live life with a lot more ease and understanding.
Once we've gained a better understanding of where our strengths and weaknesses and challenges lie in this life, we can start to work with that.
And the more we know and understand ourselves, the more empowered we feel.
All the negative thoughts we have or feelings we experience come from feeling disempowered, from feeling like we don't have control over a situation or like we are unable to change something.
When we notice that lessons or situations are repeating, especially the most painful ones, we can become aware that we're stuck in some way and need to change in order to change the situation. We will have to relive our past until we take full responsibility for the situation we are in, and begin to change.
Why do people find it difficult to feel empowered?
Many people mistakenly think there's something wrong with them, they feel shame or guilt for situations from their past, and they do not think they can, don't know how to, or are afraid to change something about it, to feel empowered and with that able to create a different outcome.
But we are all perfect, whole, fully loveable and already forgiven.
The only step we have to take is to forgive ourselves, start to recognize that we are the ones determining our fate and take full responsibility for our lives.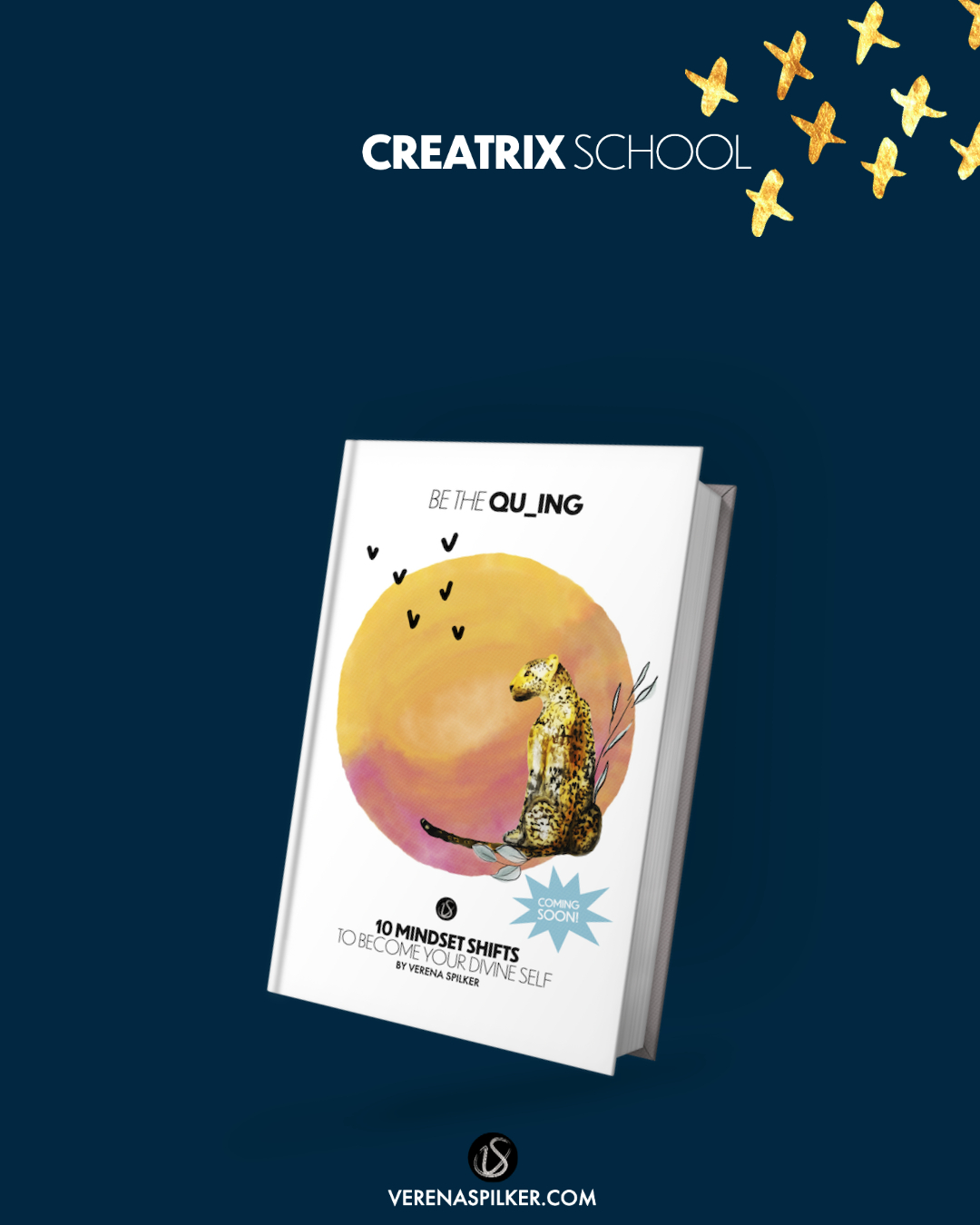 Become the Qu_ing You were always meant to be
So, we will use
astrology
, numerology, the enneagram and the Wheel of Colours to get a clearer picture of who we are as an individual and what we are meant to do in this lifetime in the I AM CREATOR School. And to use that knowledge from a strong foundation, we bring in some help from my
upcoming book
and
Qu_ing Coaching Programme
and I will let you in on some of the secrets you need to know to become a qu_ing.
What's a Qu_ing?
The word qu_ing is a mix of the word queen and king. A qu_ing creates their life with clarity, grace and great care. A qu_ing is a person, in their full power, who is living out their highest potential. A qu_ing is generous, present, kind, patient, honest and open. A qu_ing knows themselves and is excellent at what they do. A qu_ing knows how to reach any goal they set for themselves with joy and ease. A qu_ing knows that they are a representation of the divine. And so are you.
And the best thing:
any person can be a qu_ing, independent of their sex, gender identity, or where they are and how they feel about their lives right now. All it takes is a wish to change your current experience and to allow yourself to experience what else is possible.
Are you ready to step into your power and live out your full potential?
Then come and join the CREATRIX School now.
There are different membership options available for any price level because this knowledge is essential to living a happy and fulfilled life and while it's a shame that we didn't all learn these tools and strategies in school or from our parents – it should be available to anyone now.
We can all live happy and successful lives.
Start living your purpose, today.
Take a second to imagine what your life will look like when you don't have any doubts about what you need, how you work and what you're meant to do with your life. And that you're able to live and communicate that as well.
How does that feel?
Now imagine that you would also know that you could get there in a predictable period of time, by opening up to new ideas, leaving behind some of those that don't serve you any more, inviting gentle but effective changes into your life, developing a clear vision of who you are, training your mind, body and soul to support you in the best possible way and then simply watch as things unfold almost effortlessly for you.
Wouldn't that be nice?
Hi, I'm Verena. I will be your guide and teacher in the
CREATRIX School
and I'd love to help you to let this become your new reality. For most of my life, I did not know what my purpose was and had to deal with the resulting consequences: insecurities, confusion, phases of depression and anxiety and a pretty pessimistic world view. But at some point, I realized that I did not want to continue like that and began to find out what it takes to live my best life. To be honest, in the beginning, I just wanted to be a little bit healthier and happier.
But after years of research, and training, I found out that with just a few specific changes in the way we think and act, everything can change for the better.
And I wouldn't have believed what became possible for me, if I hadn't lived through those changes myself.
I'd love for you to experience the same. Because what is possible for me and others is also possible for you. No matter what you desire, you can and will make it happen, and I'm here to show you how.
I'm super happy to be in a position now to share all that it takes to live a happy and successful, confident, generous and loving life with you in the CREATRIX School.
All you have to do is sign up and let yourself be inspired.
It's been a lot of (joyful!) work to put together this unique and exclusive offer, but you only deserve the very best and have all it takes to create and live the life of your dreams – and, if you wish, you can start today.
I'm looking forward to welcoming you to our wonderful community of people who dare to be generous, happy and free!
Learn how to Discover and live your life's purpose, your vision and your unique calling
and learn about the difference between your life's purpose, your calling, your vision and your mission, so you can follow and complete each to live a happy, meaningful and successful life – according to your original and unique blueprint.