Bed Talks Berlin – The Free Thinking Festival
Last year I got invited to participate at BedTalks Berlin. I got teamed up to speak with Philip Ibrahim, the host of The Student Hotel Berlin who also founded the pinkPillow initiative together with visitBerlin, Berlin's city marketing. Pink Pillow Collection is an alliance for the LGBTQI scene that unites hotels driven by the idea that every guest is welcome as they are. Which basically sounds like a great idea.
Did our talk change the world? Did we contribute to a more peaceful world? I have my doubts. Philip seemed like a nice guy, and so did the rest of the team of BedTalks that I met.
Did I also feel like this was more a promotion for the hotel than a fight for the cause? That as well.
I'm also one of the speakers in their video:
About BedTalks
How getting in bed will create World Peace
Why do we believe getting in bed will create World Peace? Let us explain. Inspired by the positive spirit of John Lennon's peaceful bed-in in Amsterdam in 1969, we had this insane idea that a bed was the answer, so we kicked off our mission towards changing the world with an event called BedTalks.
The concept was simple: a bed is an intimate place where our most beautiful dreams and exciting moments happen, so what if we could use this spirit and ask a game-changing individual (young, old, local, international, doesn't matter) to get into bed, then ask a second to get in with them?
We then invite as many other inspired souls into that bedroom as possible, cram them all in, and capture all that positive energy. One moment in time.
We then pose a simple question: share with the others how you are changing the world, but most importantly, be equally concerned about how you can help support your bed partner's mission.
Lastly, at the end of the pillow talk, we invite the speakers to commit to something, anything that will help out the other out: a contact number, advice, or how about they kick off a new project together?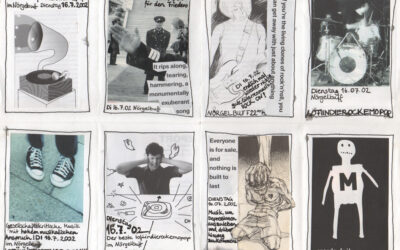 My first ever DJ-Set took place in a friendly dark bar, called Nörgelbuff, in 2002 in Göttingen,...