Meet Sothy Linda, one of the organizers of Cambodia Pride.
On June 28th, 1969 the Stonewall Riots kicked off a larger gay rights movement in the USA.
In 1970, the first gay pride marches took place in New York, Los Angeles, San Francisco and Chicago – today pride parades are taking place all around the world.
In 2018, I wanted to know who the people organizing today's pride parades are, what the marches mean to them, and met wonderfully powerful, loving and kind people from places, which might not be the first ones that come to mind, when we think of queer love.
See all Faces of Pride.
What's your name and age?
Hi! I am Sothy Linda and my nickname is Tin. I'm 31 year old.
Since when have you been involved with Cambodia PRIDE?
I joined Cambodia PRIDE for the first time in 2017 as participant. Then in 2018, I joined Cambodia Pride as a general support assistant. I am also LGBT. I help with the logistic and organizing pride week.
Why do you think Cambodia Pride is important?
First of all, Prides helped me to come out and they can encourage individuals to be themselves through educational, social, community and other activities. Then pride parades or festivals can make the voice of LGBT louder and help to create awareness and visibility in front of the government. Also, it's great for the LGBT people and their friends to be together and to support those who support the community with live with happiness.
What is one (or two) remarkable thing(s) that has/have happened at Cambodia PRIDE?
Cambodia PRIDE is entirely organized through Facebook and the website. This year over 65 participants and 15 local authorities from 21 provinces and cities came together for one day of events. This year the chief of the Kandal province gave us a place to hold our pride and we held it on a public garden in front of the riverside in the city Takmao.
We could see that many local authorities and participants are involved to create a diverse workplace and an LGBT friendly venue and all in all over 200 people came to see this event.
Since we only have one big event during the year, we invite all the government officials and people who work related to LBGT human rights such as Cambodia Human Right Committee (CHRC), Ministry of Women's Affairs, Ministry of Culture and Fine Arts and the embassies in Cambodia (Thailand, Vietnam, Sweden,…).
They and others joined our pride. Most came to help and give advice to LGBT. H.E. Keo Remy of Cambodia Human Right Committee said: "Some say that LGBT ruin the culture and tradition, but that's not true.
We ask you to please open your minds and hearts to accept that LGBT people are not spoiling our culture and tradition, it's in their nature and therefore we should accept it. While making progress, our (Cambodia) law has not yet recognized same sex marriage.
There is no punishment here, like in our neighboring counties or in other places in the world. Prime Minister Hun Sen supports our cause. But the most important thing is that we should continue to raise awareness.
I would like to remind LGBT's parent, to please open their heart to feel empathy towards their LGBT children because they are not an embarrassment for the family."
What do you do when your not organizing Cambodia LGBT Pride?
I am a full time staff of Rock Cambodia as a general support assistant.
What do you like to do in your free time?
I like to plant fruit trees or flowers & going for walks with my family.
Is there something you would like to say to the rest of the LGBT+ community?
We are not alone, we have a community, please come out to get your freedom. Our rights are Human Rights and you can be who you are and do what you want, it is all in our nature!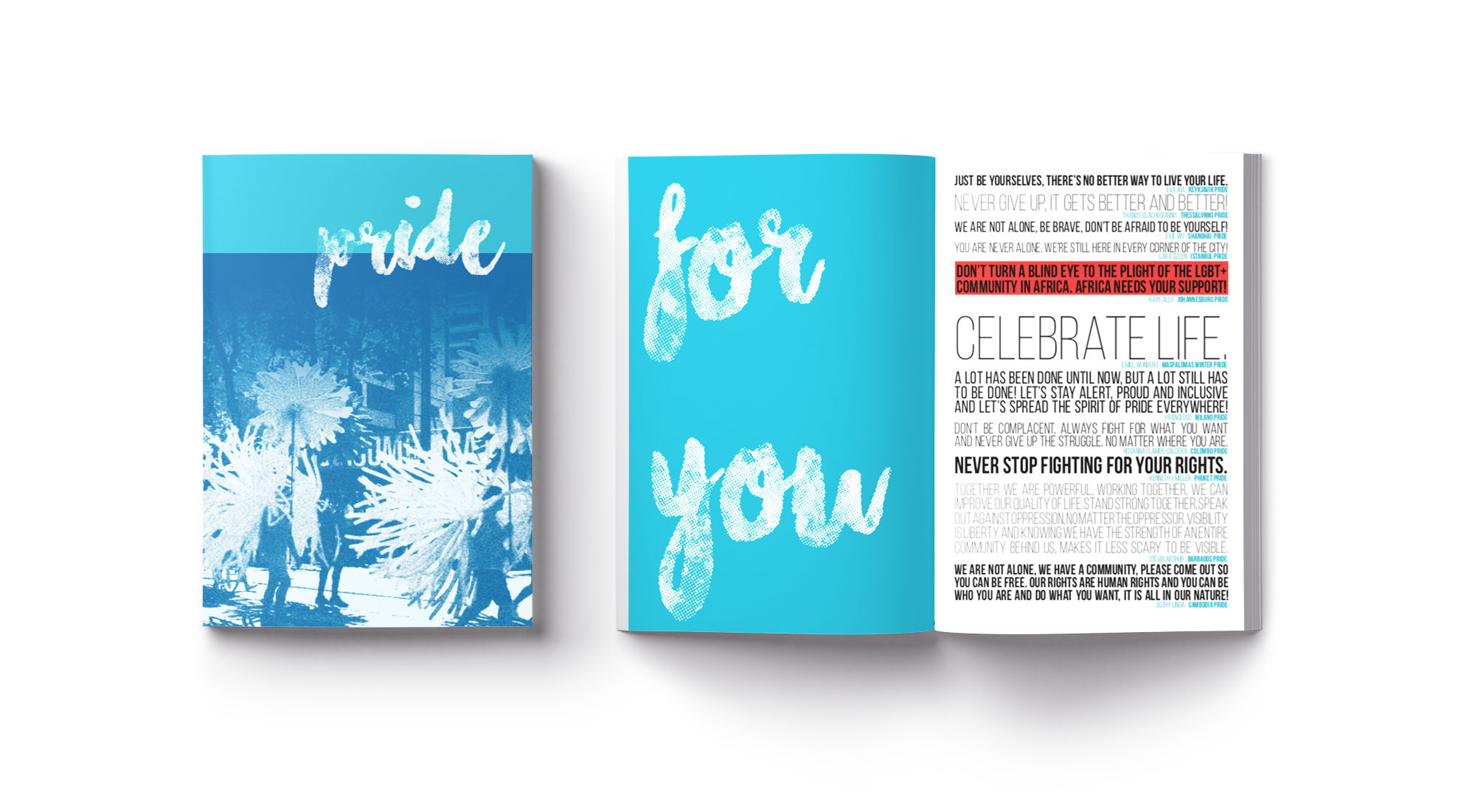 DOWNLOAD FREE PRIDE ZINE
[convertkit form=3372792]
Not different, just love
How do you feel when it comes to dealing with our emotions, expectations and responsibilities, around coming out, living as a LGBTIQ+ person and when it comes to our families and love in general?