Transnational
Queer
Underground
existed from 2009 until 2020.
Thank you for all the great projects, events, publications, meeting, joy, discoveries, your interest and your contribution!
The Transnational Queer Underground will continue to exist with all of us.
May you always feel empowered and joyful.
This world is yours to explore and enjoy.
TQU's Vision
A world where everyone can be free. We believe that no person is free while there are others that are not. We want to work towards creating that freedom for all.
TQU's Mission
Creating and maintaining transnational-queer-underground.net as an online platform, that provides useful information for the community and anyone interested. Keeping this platform inviting and encouraging for people to participate, to come out and to find their voice. Organizing public and private events, such as workshops, lectures, exhibitions, concerts, seminars, exchanges, etc. Publishing books, zines, posters, etc. Our mission might change over time, our vision won't.
TQU on Freedom
WHAT DOES FREEDOM MEAN TO US?
Getting to know who we are and being there for ourselves as well as for each other. Protecting our earth.
Building community so that no one has to face injustice alone. Showing solidarity with all other beings.
Acknowledging privileges and unlearning prejudices. Meeting each other and learning from each other. Working and growing together.
Accepting ourselves with all our flaws and respecting the other, no matter how much we might disagree, how different our experiences might have been.
Queer as in Challenging Heteronormativity
Transnational
as in creating a network and establishing links beyond borders. Taking global responsibility. Empowering people everywhere to let their voices be heard. Because we're only as strong as we are together.
Queer
as in fighting for the right for everyone to live the life they desire without facing discrimination.
Underground
as in the place where the best ideas and practices are born. It's where we empower ourselves. This is where we keep working on creating the future that we want to live in.
Thank you to all who were and are a part of Transnational Queer Underground!
If you'd like to know more about the work I did for Transnational Queer Underground, read
this article
in
LOLA Magazine
.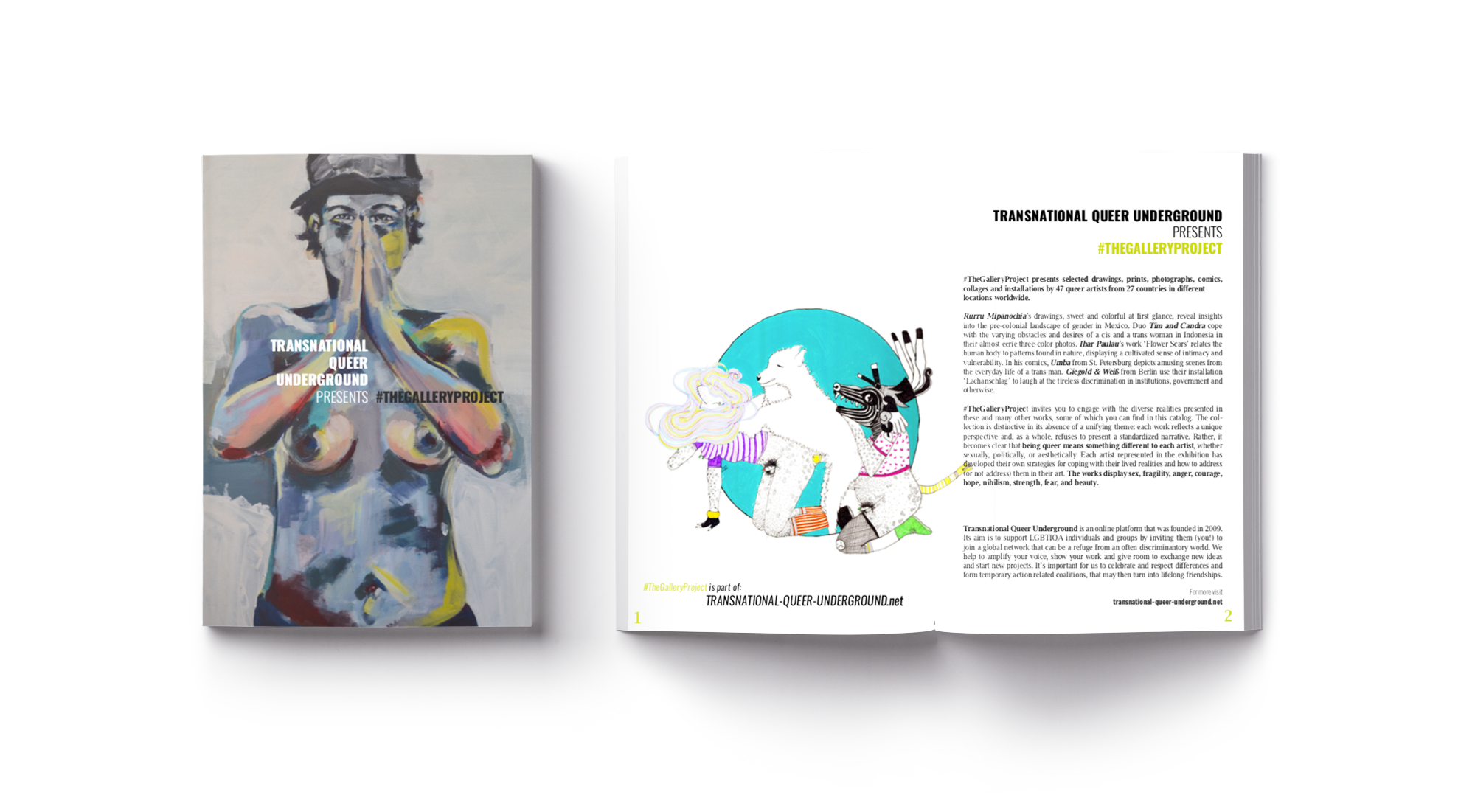 Events
TQU hosted 5 ART EXHIBTIONS between 2017 and 2018.
From 2018 to early 2020 we hosted a series of CULTURAL EVENTS in Berlin. Some of those were SHORT FILM NIGHT.
TQU also hosted QUEERMOVES– a series of donation based yoga/movement classes in 2019.
Online Publications
We collected and publish stories and poetry around different topics as a means of taking our_story writing into our own hands.
In 2019/20 the topic was SHIFTING TRADITIONS.
FACES OF PRIDE is a series of interviews with Pride organizers from 2018.
OUR_STORY is a collection of stories + poetry and interviews, from 2010-2018
GENDERNETWORKS & MUSIC (interviews 2003/2004)
ART
PHOTO COMPETITIONS – TQU hosted five photo competitions to complement the collection of stories because language becomes less important when we can connect through a photo 🙂 .
#THEGALLERYPROJECT was an exhibition series with the works of 47 artists shown in 5 countries.
CLARITY
Find the clarity to develop your life's vision and live your purpose and your calling
CONFIDENCE
Recognize your value and that you are the creator of your life and build the confidence to put your dreams into action
CONNECTION
Strengthen your connection to your inner knowing, to source, and to those around you so you can enjoy life fully and freely
"I had a virtual meeting with Verena, and I felt really safe and comfortable opening up about my struggles with Verena.
She is such a good listener and she shared with me a list of practical and efficient tools/solutions to change my mindset and the way I talk to myself. It was eye-opening. I totally recommend talking to her - her expertise can be a precious resource for everyone!" - Francesco
I am at a stage in my life where I can (and want to) make a shift, but struggle envisioning the right direction to take and the action needed. Verena helped me to focus on my desires and what is keeping me stuck. Her approach is sympathetic, calm and down-to earth. It felt like she truly wanted to work with me towards my goals and my wellbeing, through small, concrete steps and kindness. She made me feel more confident, and now the change seems more approachable. – Elena

Verena holds compassion for herself and for me, listens and allows space and treats me as an equal.
She shows up with curiosity & presence, reminds me to listen to what's important to me, suggests simple, manageable practices, giving me concrete things to work with, all in one 60-minute call. Thank you again for this gift! – em

I always admired Verena's ability to bring together people of very diverse backgrounds and give others the space and the freedom to be who they are and to express themselves. It was amazing to watch her transform her life and herself and become much happier in the process. – Corinna

I'm so thankful for the email you sent yesterday about being a conscious digital citizen. 🙂 It really sparked my day and I must have agreed with every word you said […] maybe even more as I am opening up to start presenting my thoughts and work online to wider audiences, it is so important to be concise about adequate behaviour in the digital world and lead by example 😉 Thank you for reminding me of that! 🙂 😉 – Luisa
OUR WORLD NEEDS CHANGE.
Our world needs you.
In your full power.
Start exploring new ways to be in this world.
How can you benefit from coaching? Life is precious, and it's a limited period of time we have on this earth, in this form. We can use this time to grow, experience, love, serve and learn.
Each of us gets to choose in every moment how their life is going to continue, but often we don't make the choices we want, but the ones we think are expected from us. And that leads to chaos, unhappiness and confusion because we're not aligned with our inner knowing.
Once we realize that we have the power to choose and change our circumstances, life enters into a more natural flow.
But to get there, we have some unlearning to do. We need to uncover the subconscious believes that keep us stuck, we need to leave our comfort zones and stretch ourselves, and we have to form new habits that serve us better. And that's what I'm here for, I will help you to become joyfully interdependent.
If you would like to work with me as a coach, I can guide you to find new options that are more aligned with your inner knowing, and to learn to trust your inner voice, to clear blockages that have been holding you back and to open up space for what really matters in your life. The best way to work with me this year is by joining the I AM CREATOR School as a VIP member with individual coaching.
On this journey you can find clarity, confidence, love, freedom, connection and so much more.
Ask yourself:
Am I ready to explore what else is possible for me? Am I curious to learn more about myself and my powers?
join us
To start raising your consciousness, guided by me and together with other like-minded explorers.
become
Who you were always meant to be. And start living a generous, free and abundant and joyful life.