TQU Tresen took place once a month at the lovely FAQ-Laden in Berlin, Neukölln!
A big thanks to everyone who performed, showed their films, came to hangout and supported in any other way!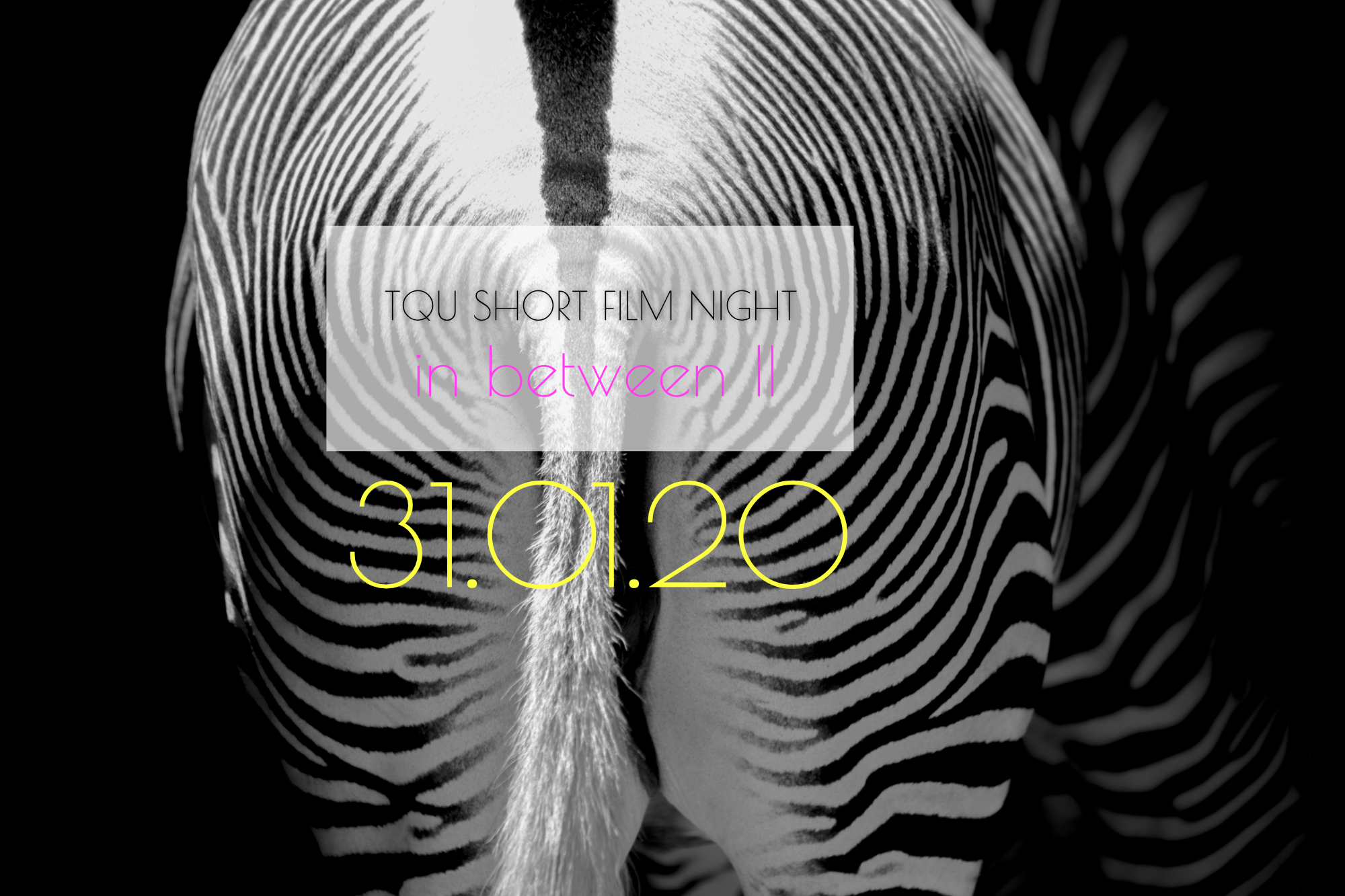 Short Film Night – In Between II
WHEN? 27.12.2019
more
Films:
Every Monday (Myat Noe | Myanmar)
Two girls. One is waiting in a hotel room, sexually aroused. The other is sitting in a house, looking dejected. There is a connection between them.
From AM to PM (Alizeb Raees | Pakistan)
From AM to PM is an intimate look into the life of Ishaq, who must maintain a balance between providing for his family and following his desire to become part of Khawaja Sira community. Ishaq is married with one child: while leading a married life by day, as the night falls, he follows his heart to where it belongs with the transgender friends in Lahore.
Kayla and Kyle (Andrew Rooke | UK)
A young transgender man must choose between his family and his identity.
Lo To – The Singing 'Faggots' (Phuong Anh PA | Singapore/Vietnam)
Can performance and originality be a way to make queerness acceptable in a society full of prejudices?
Prisoner of Society (Rati Tsiteladze | Georgia)
What does it mean to be a stranger in your own home and country?
Prisoner of Society is an intimate journey into the world and mind of a young transgender woman, who has been locked away from the outside world for the past decade.
(It is the first Georgian documentary nominated for the European Film Academy Awards)
Resolutions (Heidi Jones | UK)
After a night of failed new years eve celebrations, two very different women find common ground after discussing their approaches to risk taking.
S(H)E (Karoline Pelikan | Peru)
Lucrecia Black is an inspiring Peruvian businesswoman and CEO of the organization "Miss Perú Trans". She seeks to support people with a different option to find their happiness.
Sombrero (Jeremiah Estela Magoncia | Philippines / Korea)
Two perfect strangers meet by chance in the Philippines. While travelling, they begin to form a special connection as they share their own stories but the bond is cut short as one has to fly back to Korea while one remains to travel alone.
Synesthetic Symphony (Giorgio Rossentino | Mexico)
Lana, a young music lover, seeks get into a prestigious school. While the school doesn't accept her, she finds a different way to become a great musician when she meets Mickey, a blind girl who seeks to form a band and maybe find love.
The Old Stripper (Jack Truman | USA)
THE OLD STRIPPER – THE SHORT is a short 9 minute version of the epic underground feature film documentary THE OLD STRIPPER, a film about a burlesque dancer who goes on a cross-country road trip visiting her dancing cities from yesterday.
The Wall (Branislav Kostić | Serbia)
As much as we are different, we all go through the same problems in life.
XXOY (Lesia Vasylchenko | Ukraine/Norway)
The nonlinear narrative video XX0Y is based on the story of a person who recalls his experiences, feelings, and thoughts living as an intersex in Post-Soviet times. The main character owns a zero chromosome and can't identify himself as a man nor woman. He is rethinking the past, present and future, searching for his own place in a world beyond the constraints of gender. 
"XX0Y is a meditative work that draws on my interests in the dual searches for cultural and self-identity. My generation, born in the early 1990's, is tending to self-determination, trying to reinvent itself and explore the possibilities of post-identity politics."
Short Film Night – Home
WHEN? 27.09.2019
more
Films:
Blue Toes (Isobella Antelis | USA)
Blue Toes is a story that fights to break the rules of gender normative behaviour between kids. It follows a young boy named Mickey, who is teased for liking things boys usually don't like. In the beginning we establish that Mickey does not have many friends, and is often alone. The one place where he feels accepted is after school with his swim team. He is one of the best swimmers on the team and feels a part of the group. Mickey also has an older sister that helps him express himself whether it be through trying different kinds of makeup, or throwing on an old dress of hers. The point of the story is to show that kids should be accepted, no matter what their interests are, regardless of their gender.
Boxing Day (Richard E. Haywood | USA)
A father comes to terms with his daughter being gay.
Desert's Lullaby (Anubis Alejandro López Martínez | Mexico)
Emiliano is a gay man who travels on the road of life , avoiding and repressing their sexuality , and carrying the weight of opinion of their environment, especially their female figure : his mother.
Disconnected (Maša Zia Lenárdič | Slovenia/Germany)
We've all done it before. We felt uncomfortable in one place, and thought that running away would solve everything. But it didn't. What is home? What is comfort? At which point will we take a risk, give it a real try, what will make us stay? And: Are we able to stay at all?
Dollhouse (Ezgi Temel | Turkey)
On a common Sunday, an ordinary family goes on shopping to buy a Batman toy but their little son gives up on Batman and wants a Barbie House. His mother doesn't let him to buy it. When they come back to home, the boy transform the Batman toy into what he wants with his father's support.
Drag Mother (Meghan Smith/Brett Boon | USA)
A drag queen grapples with the terminal cancer of his estranged and ignorant mother, debating whether or not to visit her before she dies.
Heaven Vol. I (Aaron Longoria | USA)
Longing from a distance, a queer man reflects on childhood – a time before his sexuality affected his most familiar relationships.
Home Visit (Annamaria Craparotta | Italy)
Home visit is a short film in which the director, back in her hometown, faces some very uncomfortable questions about her life during a conversation with her grandmother. Home visit becomes a chance to frame a life-changing moment in the director's life.
<3 / Less Than Three (Jorė Janavičiūtė | Lithuania)
Rasa is polyamorous. She was in relationship with Elena. At the same time Elena was with Justė. Elena left Rasa. Soon they all decided to live together. Rasa still has feelings for Elena.
Melissa (Nergis Senturk | USA)
A short story about forgiveness, depicting the struggle of Melissa, a transsexual, with her family, after running away from home.
Stretching (Ifeatu Nnaobi | Nigeria)
A film about navigating spaces – lived geographies such as Berlin, Lagos/Abuja, and virtual spaces. It explores the use of technology to sustain relationships across geographic distances by engaging text and imagery as an exposition into the states of the character's world.
I Dream of Inadequacy (Juli Saragosa | Germany)
The writer Michael V. Smith asked several filmmakers to visually interpret a poem from his latest book "Bad Ideas." Juli Saragosa combines a textured sound design and hand-processed Super8mm footage of abandoned places with Google Street View and rotoscoped imagery of talking ravens in this rendering of a poem about the feelings of shame and inadequacy.
The walls that tear us apart (Manuel Ochoa | Mexico)
Liana has problems with her mother Ester who does not accept her sexual orientation. After finding her with her girlfriend Sara, Ester forces Liana to medicate herself as part of a conversion therapy.
Turning Tomboys (Texas Glory | Germany/USA)
A cat, a bed and turning tomboys. Everything is possible now.
Undertow (Carman Ho | Germany)
Exhausted and depressed, Lydia finds it more and more difficult to find reasons to get through each day even with the patience and support of her girlfriend, Emily. Seeing how much Emily is struggling for her, she makes a devastating choice.
Short Film Night – It's all about the art
WHEN? 19.07.2019
more
We're back after a short summer break. With some wonderful films that all have something to say about art, the artists life and the connections we make.
The filmmakers Yishay Garbasz, James Rosalind and Tom or Judy Moore will be present to answer some questions after the screening.
We will also open the exhibition 'Climate Change/Climate Crisis' at FAQ – which shows the winning pictures of our photo competition form May, 2019.
Films
Be What you Want – Queer Feminist Artist (James Rosalind | Germany)
"We'd like to think of ourselves, not as pawns in a bigger picture, but as agents of our own destiny".
Berlin, is an open-minded, creative city, home to many queers and artists, chances for networking and collaboration. However, the german creative industries and society are still very much cis-male favoured. Two videographers talk about their experiences of art, work precarity, hope, feminism and community.
Good Artist (Omer Moskovich | Israel)
Music video for the song "Oman Tov" (Good Artist, in Hebrew) by Omer Moskovitch. A low budget videoclip criticising the Israeli government's new methods of censorship on art and artists.
Hidden Walls (Ana Carolina Nicolau | Brazil)
Nina and Pedro belong to a group of young people who live within the margins of society due to their skin colour, sexuality and artistic expression through the graffiti. Feeling left out of Brasilia's elitist artistic society and motivated by an episode of violence by the local police, they decide to display their art in a fancy art gallery, where they are not welcome.
The Fashion Storm (Tom or Judy Moore | Germany)
The Fashion Storm is made by Tom or Judy Moore together with C. Grace Chang, M Dabbadie, and Jane Flett. Part fashion shoot, part inflight safety demonstration, part YouTube instructional video, the group investigates how to wear, perform and reconfigure the Whose Museum Collection. Contains flashing images. 
I hate you SO much (Alice Reily de Souza | Brazil/Germany)
A short poem about hate and love.
Image Makers – The Image of Absence (Beto Macedo | Brazil)
Over 3 billion photos are shared every day. Images have become our main language. In this context, who creates the new narratives? If we live in a universe oriented by the visual, what do the people who are translating the spirit of our time see in their visual creations?
In 6 months, more than 90 names were mapped, 40 people were interviewed and 5 of them had their creative processes registered in this movie. An EIXO partnership with TILT REC film production.
SALADA MISTA (Estevan de La Fuente/Shai Oliva Alon | Brazil)
SALADA MISTA is a profound penetration into a fantastic and sensual world in which fruits and vegetables are mistaken as our deepest most hidden desires. Here, we have them in all sizes, all formats, all colors, for all tastes. In this market, no one goes home hungry.
Otherland (Keren Levi/Jan Pieter Tuinstra | Netherlands)
A Vogue dancer performs at a Voodoo Carnival Ball, an important dance contest where he will have to prove himself to be accepted by the local ballroom community. He remembers growing up on Sint Maarten, a small island in the Caribbean and all the changes he has been through since. The freedom he longed for seems within reach. Based on the biographical story of Elvin Elejandro Martinez and narrated by him, 'Otherland' is a juxtaposition of two narratives that evoke new associations for viewers: while the visual story of the ball is fictional, the film is based on in-depth research into the Dutch ballroom community and all the characters and dancers are part of the European ballroom/vogue community.
Directed by Estevan de La Fuente and created and produced by Shai Oliva Alon, Salada Mista is a tropical audiovisual experiment which draws inspiration from publicity, fashion, music videos and pornography, culminating into a luscious synesthesia of an overdose of colors, sounds, flavors and scents.
Becoming (Yishay Garbasz | Germany)
A short film about the installation of Becoming, which was the second largest zoetrope in the world when it was installed at the Busan Biennale in 2010. Though normally rather small this zoetrope was a half ton of steel, 250 kg which traveled at 11k/h (in order to create animation of 12 fps) 2 meter high and 3 meter wide. Becoming are images of Garbasz' body one year before and one year after gender affirmation surgery. Garbasz used non projected film as she did not want the context of unreality that projected films have. This film is a stop motion film of Becoming's construction and operation. It was also published as a flip book, distributed by random house.
Short Film Night – In between
WHEN? 26.04.2019
more
Inbetween the country and the city, traditions and revolution, your family and yourself – where do you go and what do you do? Ten short films explore these questions and ask you: where do you stand?
Films:
A Mama (Narahari Rao H | India)
An irresponsible son decides to dress like a transgender to make easy money in the city and gets caught in the act by real transgenders and learns a valuable lesson.
Crooked (Briana Blades/Kristin Kent | Canada)
A documentary about genderqueer journalist, poet and artist Jess Sachse who is living with a congenital disability.
F to M (Shahrad Shahvareh | Iran)
This short film shows just a small part of an Iranian transgender's emotions and limitations and the way he fights. This is a picture of the tough emotions a F to M transgender youth has to go through to get to live his original and true real self. Director and Actor of this short movie is an iranian transgender Shahrad Shahvareh himself, who is forced to wear a hijab until he gets an official sex change.
Gray (Preet | India)
Because homosexuality is still a crime in many parts of the world, people are afraid of taking a stand for their individuality. There have been a number of movements and protests for the freedom of homosexuality, but hardly any thoughts have been given to those girls who have gotten married to homosexual men who are afraid of exposing their truth in our bitter society.
Nandini is one such girl who got married to Rohit, who is a homosexual. Zoel, Rohit's partner, is an artist and aware of Nandini's suffocation. The story takes a turn when Rohit tells Zoel that he is planning to have a kid through IVF, so that Nandini will get busy in her life and it may release him of his guilt too. Opposite to Rohit's expectations, Zoel feels disgusted with this thought and discards Rohit's intention of managing his life between him and Nandini.
While it feels like a sacrifice to Rohit, that he got married to Nandini and not his real love, isn't it a crime to Nandini who dreams of a married life with a loving partner? "Gray" takes us to understand the characters and to connect as human beings.
Into the Rainbow (Hasan Najmabadi | Iran)
Two lesbian girls take up the dangerous journey from Iran to Turkey to reach freedom.
Kinga (Konrad Kidawa | Poland)
In an intimate portrait Kinga recalls her struggling for being herself in the begging of 2000's in small town in Poland and returning faith.
Majur (Rafael Irineu | Brazil)
Meet Majur, LGBTQ+, head of communication of a indigenous village located in Mato Grosso, Brazil. The documentary shows a year of his life.
Self Portrait (Faun Harjo | USA)
Struggling with gender identity, sexual orientation, and cultural identity has been a normal aspect of my life. Being pulled in and out of native culture and feeling like my queerness was unwelcome by my people, I separated myself for years. Now I explore my relationship with my culture by decolonizing myself and others by sharing my identity openly and honestly.
The Choice (Lotte Twaalfhoven | Ireland)
Devin is in a deteriorating relationship with Ashley when she meets Alex. Devin and Alex hit off immediately. Devin's best friend is Hannah wants Devin to be happy. Devin is left with a choice to stay with Ashely and work things out or choose what will make her happy.
The Gay & I [Beki't Ako] (Romeo Burlat | Philippines)
The movie tackles different kinds of gay. But the story focuses more on two former pageant gay beauty queens who decided to live a normal life by getting married with the opposite sex. The film does not only tackle your funny bones but will also reduce you to tears.
SHORT FILM NIGHT – HAPPY ENDINGS
WHEN? 22.02.2019
more
Films:
August and the Rainboots (Hannah Thompson | USA)
A tale of two girls, a pair of rain boots, and a friendship that will last a life time.
Broken Doll (Gaspar Aguirre | Argentina)
A young teenager is going through a hard phase because of his self-image and the external pressure of how he should be.
Brothers (Mike Mosallam | USA)
BROTHERS is a coming-of-age story following a Muslim Arab boy coming to terms with his sexuality. Upon recognizing that he is different through the lens of his family and society as a whole, he decides to face his fears with the support of an older brother who stands by him and encourages him to be himself, in the face of bias and adversity
Deep Sea Pearl (Raven Byrne | Australia)
Deep Sea Pearl is a short animated film originally created as a university assignment. It follows a little mermaid's plight to impress her crush, an angel she often sees flying above, by giving her a pearl. I was determined to create a cute story with two queer women as the characters, because so many big Hollywood movies either have no queer women or give them sad endings. Deep Sea Pearl is also dedicated to my partner, who I started dating while making the film.
Foible (Simmie Sangian | USA)
At a house party Sofia's inner criticism manifests into human form and constantly reminds her of her short comings.
I lost you in the subway (Marco T. Alves | Brazil)
Emotions and sensations in a delirious, feverish and ardent rhythm of a love that still burns. In the subway of São Paulo, the seasons change, but not the feeling. The wagon has left, but are the doors closed for her?
In plain sight (Marta Kwasniewska | UK)
Neela has lived on her lighthouse island for her entire life, while Devin is a nomad who with a gift wants to encourage her to see the world out there for herself. It takes that one gift for Neela to leave, and discover not only herself on the journey, but also what she wanted all along – which was always in plain sight for her.
Limitless (Radheya Taware | India)
A tale of the would be would not be phase of a young Chap who believes himself being bounteous, Questions the civic elements about his or her existence and at last realising of self being LIMITLESS.
Mimi's Makeover (Stef Aranas | Philippines)
An androgynous transgender girl learns the impossible standards of transgender beauty in the process of getting ready for her first date.
Mind(less) Body (Ana Falcon | Mexico)
A woman reflects on the relationship between her mind and body.
Pragma (JIHYUN PARK | South Korea)
Yoo-Hee and Joo-Yeon fell in love in high school, but their school's persecution of gays tore them apart. When meet again years later, sparks fly.
Pril (Niek Roozen | Netherlands)
Two girls go on a camping trip, but what will happen after their first kiss?
Sisak (Faraz Arif Ansari | India)
Silence is the most piercing sound. Silence is something that so underutilized in our lives, in the films we watch and the films we make, silence barely exists. However, when Sisak was born, I knew it right from its inception that it has to be a silent film. I had so much to say that words were falling short. Why silent? Well, other than being a political statement about the state of the LGBTQI community in India, there exists a state of immense need to be heard by the community – we take out Pride marches, almost every LGBTQI film is about people's struggles with their families, with themselves, about coming out, etc. As a filmmaker and a storyteller, I feel we use too many words to convey what we feel. Sometimes, I feel, words are poor comforters. People need to feel what you are feeling and when there are no words to support the visuals, by default, the audience wants to get into the minds of the character, we observe them more closely, we feel more closely and that indirectly, makes the loudest roar that the community needs.
Steps in the Night (Daniel & Maximiliano Garcia | USA/Mexico)
In mid-1990's Tijuana, a closeted gay man enters a local Cumbia competition in the hopes of dancing with a man whom he secretly admires.
The Star-Filled Silence (Becca Clapperton | Canada)
Alex, an avid anti-social stargazer, is having trouble adjusting to her life without a voice. When Kay, her sweet and flirty classmate offers to teach her Sign Language, Alex hesitates: To move forward with Kay would she be giving up on a possible recovery? She's just not ready for that.
TQU-Tresen: Short Film Night
When: November 30th, 2018
more
QU is very happy to invite you to our very first Short Film Night! If you have missed our last two events – they've been very cosy and friendly, fun and entertaining and we will continue on this path.
Next to showing four amazing films: Yumma, Va-Bene, I Could Be Her She Could Be Me and Queer Sind Wir (all in English or with English subtitles) that deal with questioning gender and traditional gender roles in Jordan, Ghana, France and Germany/Berlin – this Friday we will have Brenda Jorde, one of the film makers at the event, who will tell you about her film Va-Bene, you can meet Marc who will support organizing our upcoming events and Marc and Verena will tell you a bit about how you can get involved in this event series in the future.
There will be drinks and you are very much invited to hang out with us and talk to us or your friends after the screenings.
Yumma is a 23 minutes long Arabic documentary centered around first-person stories about the relationship between three Arab mothers and their sons. Delving in the impact of social stigma on family relations, Yumma presents the family as an area where solidarity can be exercised and #acceptances can be practiced, to defend the autonomy of individuals over their bodies.
This is a zerobudget project based on voluntary work.
Musa Al-Shadeedi, the film maker, was born in Baghdad in 1992 and finished their schooling in psychology from Amman Ahlya University in 2016. They lived their childhood under the rule of Saddam Hussein, and saw the intervention of US troops in the country to overthrow the regime under the guise of promoting "freedom." They were able to turn their visual art and writing to a vessel that carries the voices of the subaltern. They published their latest book titled "The nonnormatve sexuality in Arab cinema" (in Arabic) in 2018. They founded Cinamji, an initiative dealing with body and sexuality in the Arab cinema in 2017,and they are the Arabic editor of My.Kali magazine.
Va-Bene is a performance artist who criticizes and draws attention to the restrictive and religious approach to gender that is present in Ghanaian society. This portrait is focused on his performance of femininity, which seeks to challenge and subvert Ghanaian perceptions of what it is to be a woman. Va-Bene shows that you can be an ally through art, and fight for what you think is right.
Brenda Jorde is a German student living in Berlin. Her father is Ghanaian and until the age of 12 she often visited him in Ghana, but since then she has not been back. In 2017, She made the decision to travel to Ghana again to find out about the country, culture and people.
The 6 short films I created are a 0-budget and one woman production.
Although it is possible to find stories of independent, smart and active Ghanaian woman and men it is often the case that mainstream narratives about Africa focus on poverty and inequality and show people as passive victims. I wanted to challenge this stereotype and find inspiring people that speak up and question traditions/gender/ religion/conventions… Through friends, family and chance encounters I got in contact with people from different parts of society who were happy to talk to me on camera. Va-Bene is one of them.
I could be her she could be me
A beautiful digital storytelling project by Delphine Kermorvant, titled "I could be her, she could be me."
Delphine is a photographer working on memory, heredity, transmission, and gender. She's lived in Berlin for 10 years.
QUEER SIND WIR
What is queer? Is it political? Is it identitarian? Is it an aesthetic, a posture? Is it intersectional, is it sexual? In this film collage, Sanni Est interviews 7 queer subjects speaking freely on community, privilege, post-colonialism and more with the intention to raise questions to the viewer rather than giving definitions.
Sanni Est is a Brazilian transgender multi-media artist based in Berlin. As of August 2017 she started making music videos and experimental short documentaries for her trans*feminist music event 'Empower'. The Empower concept is to raise representativity and give protagonism to queer, trans*, non-binary artists from different scenes in the world. Her first short documentary is called 'Beautiful Lies', was shot in London and is available online.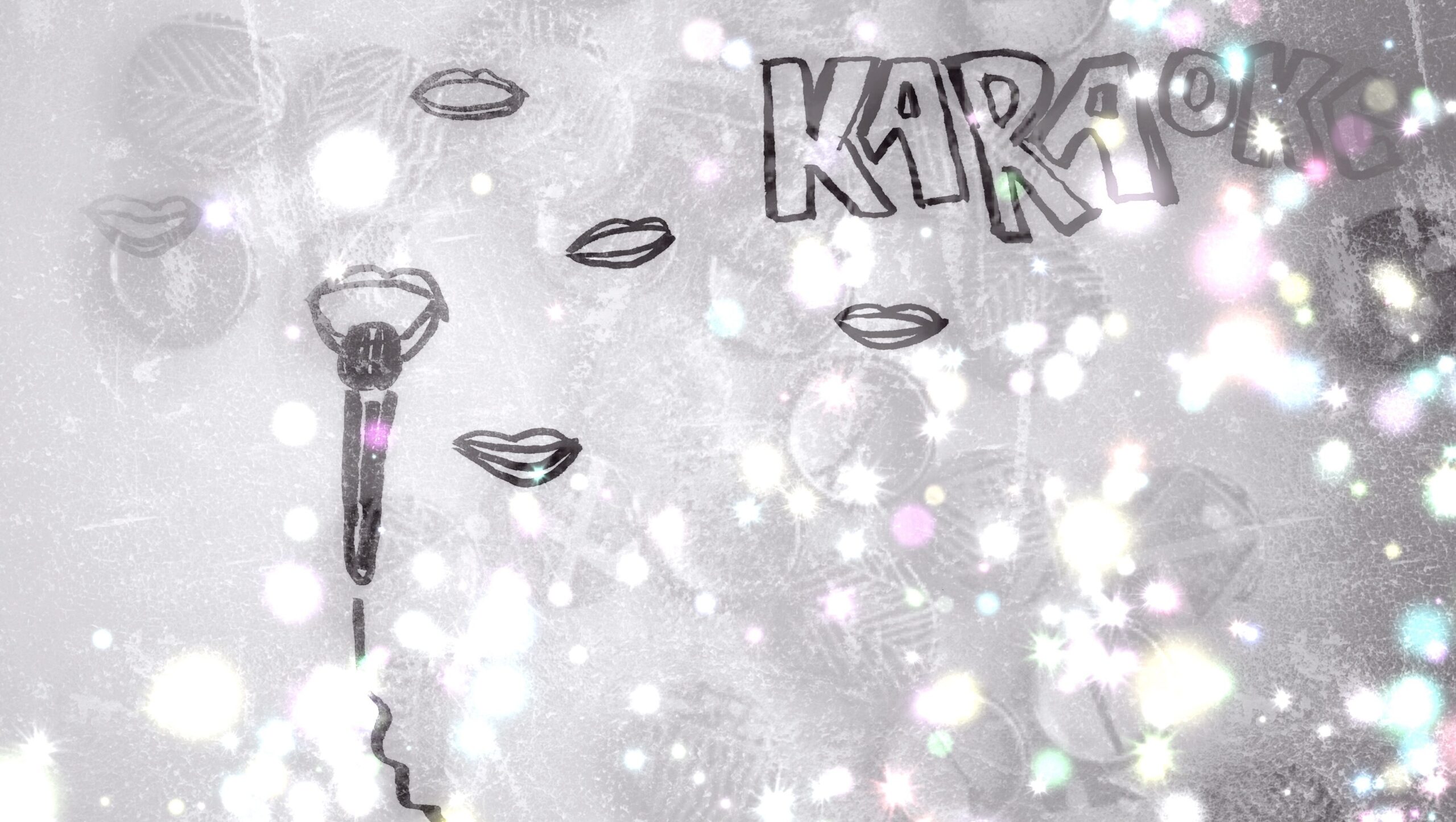 TQU-Tresen: Karaoke
When? 29.03.2019
more
This March we invite you to sing with us!
The night will be hosted by the alluring Ritalin Monroe.
There are only so many times in life, where you are invited to make mistakes – and even fewer times when you are allowed to do so in the spotlight. Karaoke doesn't only allow for it, it celebrates it.
Let's be foolish and fabulous together.
Sing your wonderful rainbow hearts out.
Sing the songs that make you feel 14 again.
That make you feel 14 today!
Sing what makes you feel!
We're excited to hear you!
TQU-Tresen: Changes
WHEN: DECEMBER 28TH, 2018
more
We would like to invite you to join us for a night of music, poetry, stories and performances around the topic of CHANGES. 
"We delight in the beauty of the butterfly, but rarely the changes it has gone through to achieve that beauty." ― Maya Angelou
We'll bring some cookies and make some Glühwein too.
Confirmed performances by:
mandisa apena is a part-time vegan from south london, england. their work spans over concepts such as connection, the body, dreams and the earth. their practice is interdisciplinary and currently includes poetry, visual art and sound art.
they are a Barbican Young Poet alumnus, and founder of poetry: hot 4 u (a queer poetry night in london). they also self-published a collection of their poems 'and twice as bitter' in 2016.
We're Only Made of Snow – Romantic Punk-Folk band based in Berlin. 
Alfred Ladylike (antifolk cabaret – Berlin/Boston)
Centered around her soulful siren voice and a very versatile ukulele, Alfred Ladylike's music combines elements of folk, rock, jazz, and blues in witty little acoustic ditties and juicy folktronica jams. This queer and quirky artist is known in underground circles for cathartic lyrics, riveting performative flair, impressive costumes, and DIY merch (like teabags, zines, etc). Alfred toured Europe in 2017 with Amanda Palmer and Edward Ka-Spel, and was the frontwoman of feminist uke rock band Donut Heart.
Kevin is a writer, poet, ex-blogger and freelances in digital media. His work deals queer emancipation and erotic attempts towards a world free or hetero-patriarchal binaries. Find his texts on kevinjunk.de and subscribe to his poetry newsletter junk.poems via tinyletter.com/kevinjunk
Darling Fitch presents an excerpt from Revelations, their new multidisciplinary performance about the end of the world and our place in it.
Ambika Thompson is a writer, musician and parent. She has been published at Electric Literature, NPR Berlin, Fanzine, Riddle Fence, Plentitude, was in Crab Fats Magazine's "Best of" compilation (2017), and was also nominated for the Journey Prize in 2017. She is the fiction and managing editor of Leopardskin & Limes, in the band Razor Cunts and is an MFA candidate in creative writing at Guelph University.
Special: Get your nails done by Fierce Fat Firefly! We'll set up a table and you can get your nails done on a donation basis! Please come early for this!
TQU-Tresen: Rorschach Bruises & friends
When: September 29th, 2018
more
Do you remember Razor Cunts and Eyelashes? Well, Rorschach Bruises are somewhere in that direction. In other words: If you fold a bruise in half you get twice as many teeth marks! Rorschach Bruises make noises with nintendo, cello, tarot, magic boxes, grubby queer poems, and general howling at the moon. They can't spell their own name but they're probably wearing really good outfits.
At TQU-Tresen, collaborators Cheng Kitsum & Theresa Kampmeier will be reading their Stickler's Digest, stories from yesteryears. How and why? They've come to the conclusion that:
what king schtick paypa
walking stick paper
walking stick paper
watkins sick papa
water sickle paper
reading stick
walking shtick paper
reading walking stick
walkaway reader
new kindle
oh oh new kindle!!
old man's kindle
fondle kindle
kindle the old man
kindle the old stick
we are going out of control
can't do the kindle
stinkle
stickle
winkle
dinkle
e reader is an alternative
wrinkle stinkle
twenty pence gutter stick
serious walkers' reader
stickers digest
twenty pence gutter stickle
digest is good
stickle is an actual word
stickle's digest
stickler's digest
daily stickles
to contend especially
stubbornly and
usually on insufficient
grounds.
stickler's digest
And after that DJ Micheline Space will send you on a soothing journey full of muzak-enthused dance floor delights.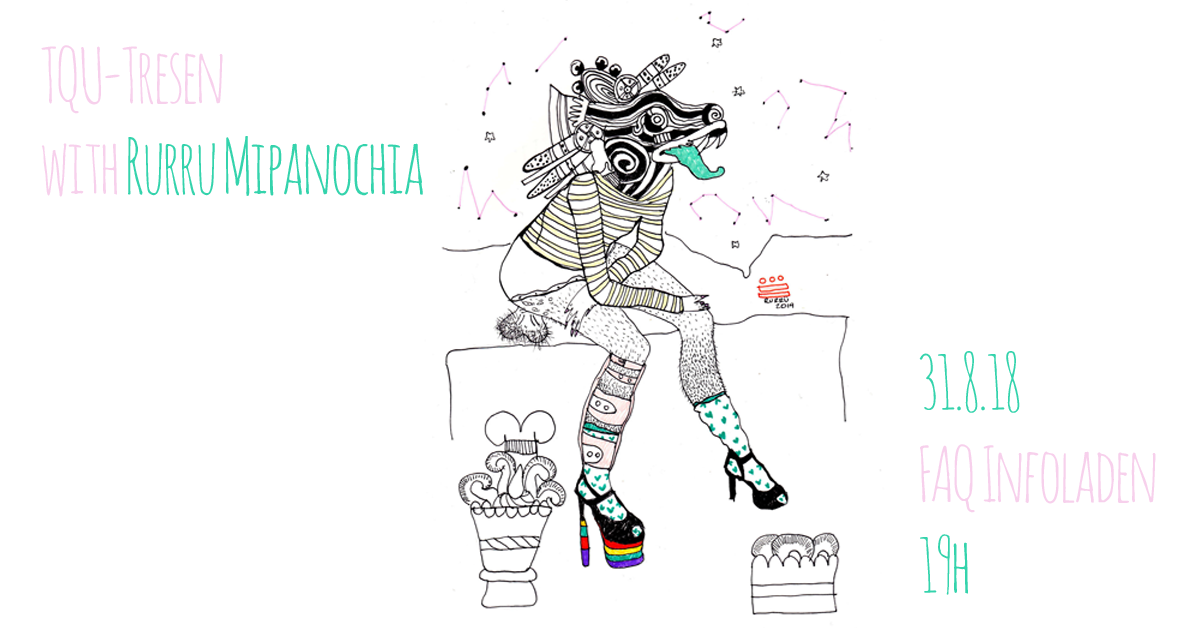 TQU-Tresen: Rurru Mipanochia
When: August 31st, 2018
more
Rurru Mipanochia is a cyborg built in Nibiru, but discarded to the earth by defects in its operating system, reborn in Mexico City. Rurru studied visual arts in the Faculty of Arts and Design, UNAM, and graduated in the year 2012. In 2015-2016 Rurru got chosen for the program of young creators, FONCA (Fondo Nacional para la Cultura y las Artes), a renowned art scholarship in Mexico. Her/his/its works were exhibited in Mexico, Latin America, Europe and the USA, as well as published in national and international magazines.
Before the Spanish conquest, sexuality used to be much more open.
For example, the Maya allowed homosexuality and lesbianism, so did the Huastecs, and the Zapotec civilization had a declared third sex.
Rurru is going to talk about how gender was considered something much more fluid, tell you some myths around menstruation and give you some insight in how Rurru has made a personal reinterpretation of these researches based on some anthropologists like Miriam López Hernández, Noemi Quezada, Edward Seler, Patrick Johansson, Atahualpa Huntar and more.
You will also get to see some of Rurru's dazzling artworks, which we will project on the walls. Rurru will also bring some stickers and cards of her work for you to purchase if you like.