When? 25.03. – 06.04.18 – open every day from 12pm to 7pm.
Where? ReTramp, Reuterstrasse 62, 12047 Berlin
What else? There will also be workshops and some special events.
THE EXHIBITION
The exhibition in Berlin took place at a gallery that we rented for the event. Due to the fact that we couldn't sell any of the artworks, because the exhibition is still traveling on, we made the money for the rent by giving away patches, the catalog, drinks and other things for a donation.
There were three events with concerts/performances and two workshops, which all had a really good turnout and were a lot of fun.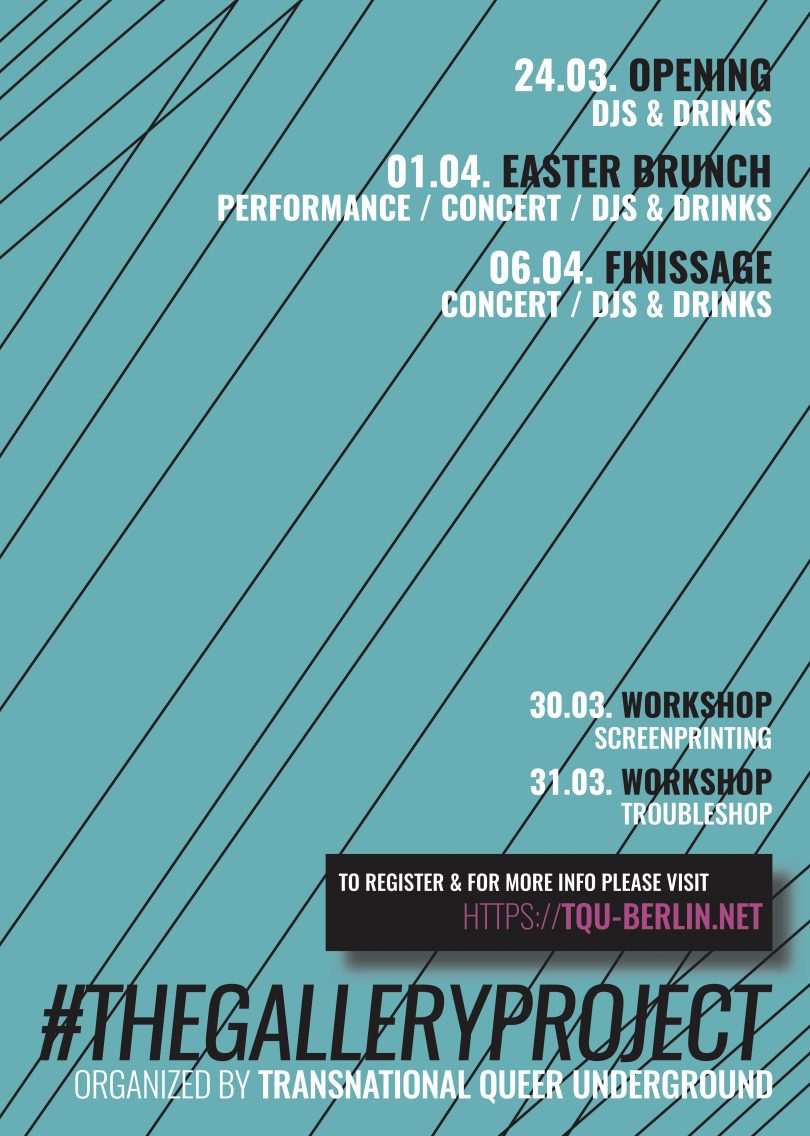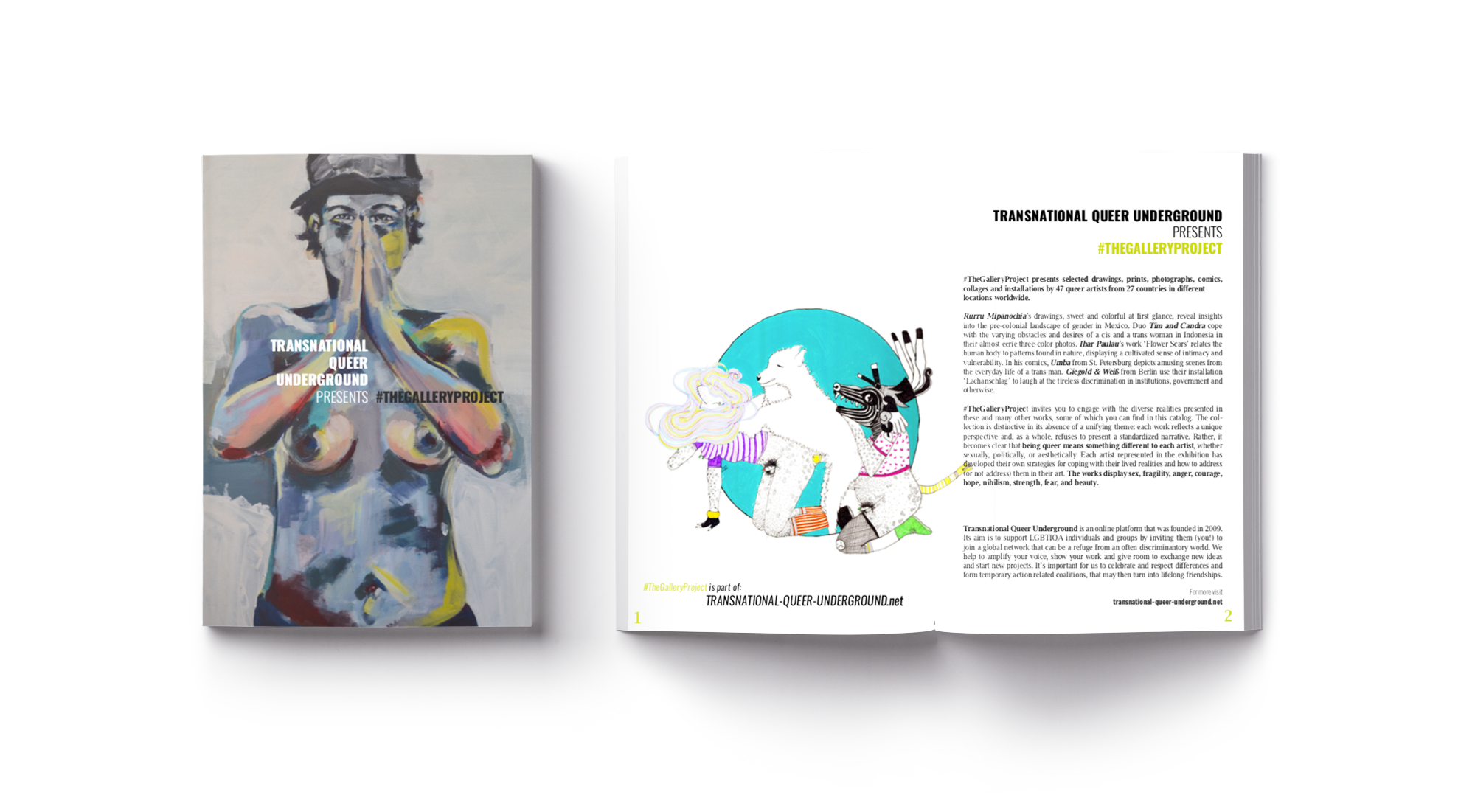 Workshop I: 30.3. Screen Printing 17 -19:30h
In this workshop, each participant will build their our own frame from wood, attach the screen and make a stencil from a drawing/print.
If you have a drawing or print in black&white around A5 or smaller that you want as a stencil, you can bring it along. The design has to be simple enough so that you can trace it onto the screen with a pencil. I will also bring some that you can choose from. The prints will look like the ones on the picture to the left.
We will do some test prints after the frames have dried. Please bring some fabric and/or shirts with you for that.
You can take your frame home with you after the workshop.
This workshop will help you make your own prints at home and share your knowledge and all the fun with your friends.
Languages spoken: English, German
Please register by using the form below
Suggested donation per participant: 3-7 Euros for materials
Workshop II: 31.3. Troubleshop 17 – 19:30h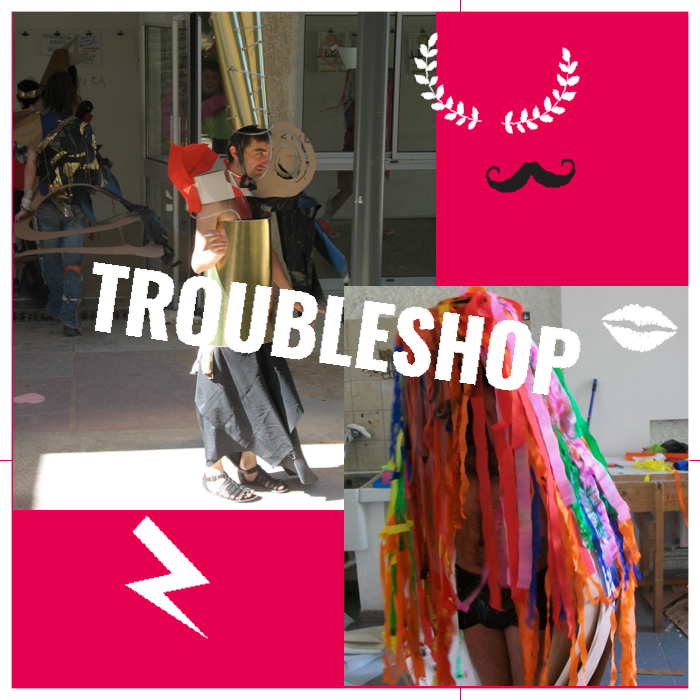 Creative Workshop sessions around the question of clothing
Clothing isn't only about fashion or aesthetic judgement: it's a message. Our body is like a canvas on which we place different signs, like «I'm feminine» or «I'm masculine». Closing defines as much a relation to ourself as a relation to the others, from its social role to the construction of our identity.
As a visual artist, I want to experiment with the idea of clothing and costume. Wearing clothes is a performance. It's a process and a time we spend to create the image we want. This workshop aims at going further and opening possibilities of experimenting with clothes and its relation with our body.
The collective aspect of the workshop brings creative potentials and helps to create a respectful and judgement free space. I will present a series of experiments and creative games that will bring the participants to be open to the unknown and discover new possibilities of clothing.
This workshop is also the opportunity to tackle themes such as gender and identity in an original way where language doesn't have authority. Discourse and rhetorics will make place for others form of languages, ways to exchange and share experiences.
Languages spoken: English, French, German
Please register by using the form below
Suggested donation per participant: 3-7 Euros for materials
Exhibition Photos by Jason Harrell, workshop photos by Verena Spilker
EVENTS
From the opening, March 24th, 2018. We Are Only Made Of Snow live.
From the Easter Brunch, April 1st, 2018. Melanie Menard and Ignatz Höch live.
From the finissage, April 6th, 2018. Nansea live.