Mental Well-Being // Mind
"But many of us seek community solely to escape the fear of being alone. Knowing how to be solitary is central to the art of loving. When we can be alone, we can be with others without using them as a means of escape."
― Bell Hooks, All About Love: New Visions
Our mental well-being is strongly linked to our physical well-being and vice versa.
Once we know how to take really good care of our bodies, we can deepen our positive relationship with ourselves mentally as well.
We create the world we experience – if we want to change our experience, we need to change the way we interact with the world and to act differently we change our thinking 🙂 It's fun!
If you'd like support with that, book a session with me.
We can train our minds, to help ourselves to live our best lives and with that open up possibilities for a peaceful, clear, fulfilled and loving present & future.
Mind Essentials

Please share whatever you find useful here with your friends and family.
We all need each other and it's more fun to grow together. ❤️
How can we make the most important decision of our lifetime, when for most of us, most of the time it does not feel like we're deciding at all?
It feels more like things have been decided, the choices have been made, and that we are dealing with the consequences.
read more
A Magical year
PRACTICE LIVING A
MAGICAL LIFE
New in the
Sustainable Business Directory
No Results Found
The page you requested could not be found. Try refining your search, or use the navigation above to locate the post.
COACHING
FOR CLARITY, CONFIDENCE & CONNECTION
ARCHETYPES
UNDERSTAND YOURSELF BETTER & ACT IN ALIGNMENT WITH YOUR INTENTIONS
It's wonderful to have you here,
enjoy
.
How to…

Life can be tricky. Especially since many of the things we've learned and experienced have come to be in traumatized cultures and societies. But we can change our ways and find new modes of being and acting, so we can live more freely, and experience more love and joy. Here are some places to start. If you have ideas or wishes of what else to add, please let me know!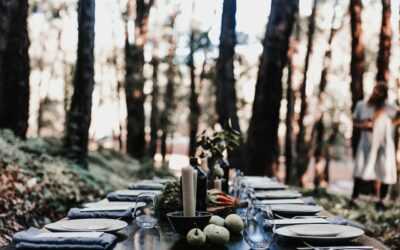 Photo by Rachel Claire from Pexels.Why a Sacred Kitchen? Because we are sacred beings and with a sacred kitchen, we can learn to take care of ourselves and anchor ourselves in the present moment. In 1237 Zen master Dogen finished his book Tenzo Kyökun or Instructions...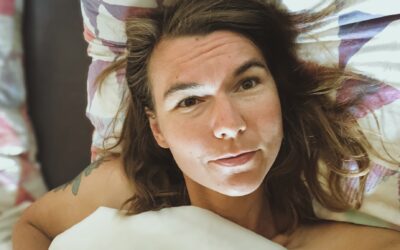 Getting enough sleep is fundamental. And to get enough sleep regularly, you need a sleep routine that serves and nourishes you. If you don't know where to start on your self-actualization journey, this is the place. Start rearranging your schedule to get enough sleep,...
Why write a future self journal? Because the more you imagine your ideal future self as a real person, the easier it becomes to become that person! Download a free cheat sheet to get you started!
Dear Future Self
Dear Future Self is an ongoing series which takes a look at the presence in its impermanence.
The idea is to capture a certain moment in time, a feeling, a wish, an encounter or experience and to recognize, that the perspective on that moment will change.
My future self will know more than I do now, will have had more and different experiences than my current self, and will therefore have a different view on what I'm noting now. Going back and forth, between these notes, also documents the steps in personal development and shifts and changes on an individual level.
Self-Actualizing, personal development, the search for more options, or simply experiencing growth and change for any reason, might feel weird, scary or uncertain. Yet impermanence or becoming is something we all share.
Download your free future self journaling cheat sheet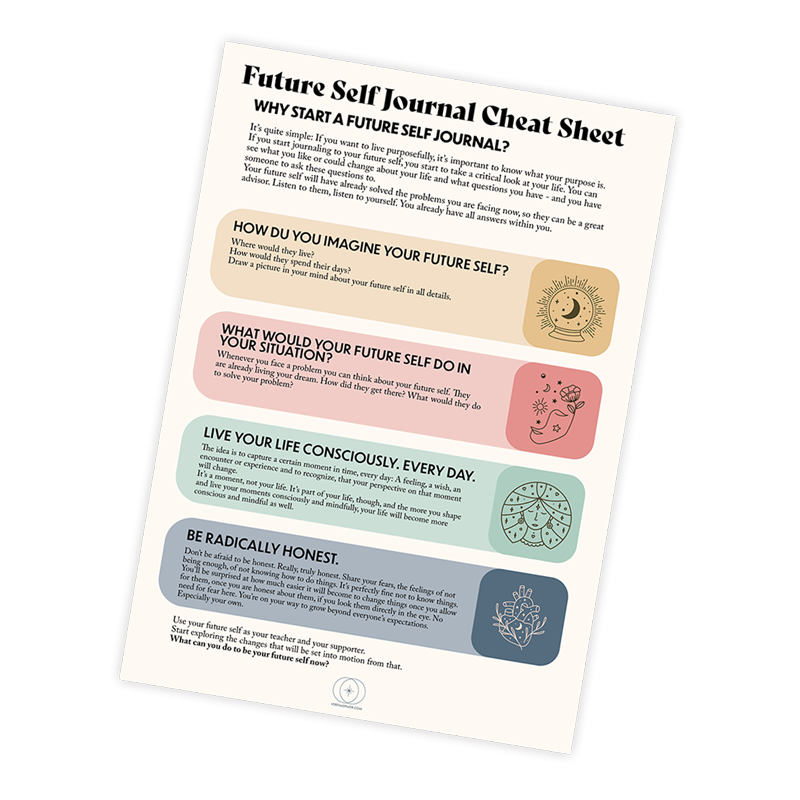 CLARITY 🌱 CONFIDENCE ✨ CONNECTION ❤️
Would you like to book a course, or a coaching session or buy other digital products, such as an archetype poster? Visit the SHOP 🛍
all Mental Well-Being related Posts
No Results Found
The page you requested could not be found. Try refining your search, or use the navigation above to locate the post.
OUR WORLD NEEDS CHANGE.
Our world needs you.
In your full power.
Start exploring new ways to be in this world.
How can you benefit from coaching? Life is precious, and it's a limited period of time we have on this earth, in this form. We can use this time to grow, experience, love, serve and learn.
Each of us gets to choose in every moment how their life is going to continue, but often we don't make the choices we want, but the ones we think are expected from us. And that leads to chaos, unhappiness and confusion because we're not aligned with our inner knowing.
Once we realize that we have the power to choose and change our circumstances, life enters into a more natural flow.
But to get there, we have some unlearning to do. We need to uncover the subconscious believes that keep us stuck, we need to leave our comfort zones and stretch ourselves, and we have to form new habits that serve us better. And that's what I'm here for, I will help you to become joyfully interdependent.
If you would like to work with me as a coach, I can guide you to find new options that are more aligned with your inner knowing, and to learn to trust your inner voice, to clear blockages that have been holding you back and to open up space for what really matters in your life. The best way to work with me this year is by joining the Generous Life Membership Programme as a VIP member with individual coaching.
On this journey you can find clarity, confidence, love, freedom, connection and so much more.
Ask yourself:
Am I ready to explore what else is possible for me? Am I curious to learn more about myself and my powers?
join us
To start raising your consciousness, guided by me and together with other like-minded explorers.
become
Who you were always meant to be. And start living a generous, free and abundant and joyful life.