Die Ausstellung zeigt neue Arbeiten von Jason Harrell und Renaud Héléna, die sich mit Spiritismus und Okkultismus auseinandersetzen. Für seine Fotoserie bedient sich Jason Harrell klassischer Entwicklungsverfahren, um Methoden der Geisterbeschwörung und Wahrsagerei zu untersuchen. Der Allgegenwart des Handys zum Trotz belebt er damit die Aura der Fotografie wieder und gibt Betrachter*innen die Chance, erneut an ihr Schicksal zu glauben. Renaud Hélénas Installation basiert auf von Medien und/oder Magiern benutzen Objekten und Hilfsmitteln, die unsere Wahrnehmung täuschen. Dazu präsentiert er ein Brettspiel, das Spieler an einer Séance teilnehmen lässt und die Frage aufwirft, wer Medium und wer Geist ist.
Veranstaltungsort
Schaffen Wir
Sonnenallee 58
12045 Berlin
als Teil von 48 Stunden Neukölln – Juni 2019
Jason Harrell is a Berlin-based American photographer, visual artist and journalist. He studied Photography at City College of New York and Literature and Art History at the Universiteit van Amsterdam and Freie Universität in Berlin. Harrell has worked with several press photo agencies and galleries, and has subsequently been exhibited in Berlin.
Website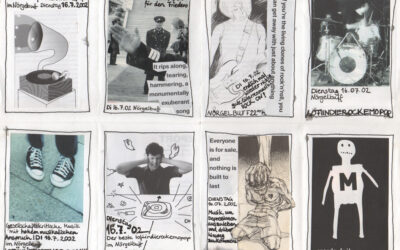 My first ever DJ-Set took place in a friendly dark bar, called Nörgelbuff, in 2002 in Göttingen,...