Last September Jane asked me to draw a tarot card to accompany one of her wonderful poems for a book full of poetry and Tarot cards. I felt quite honored.
The card was the Wheel Of Fortune and the poem one, I had previously translated for her for an event.
Jahr: 2018
Auftraggeber_in: Jane Flett
Projekt: Illustration
About Fool's Journey
"Fool's Journey is a collection of 22 poems based on the Major Arcana of tarot, with 22 hand-designed cards based partly on my poem and partly on the corresponding Rider-Waite-Smith design.
The artists are from all different kinds of practices – tattoo artists, zine makers, ceramicists, costume designers, printmakers, musicians, directors, board game designers, writers, and a few professional illustrators too. Most are women and many are queer. The work they have created is full of glorious things and grotesque things, delicious oozing bodies, wolves and sunbeams and skeletons and UFOs.
As for me, I'm a weird, queer, witchy poet who likes to write about making out, made-up science, teeth marks and spells. These poems were mainly written at Can Serrat residency in the Montserrat mountain range. My work has been anthologised in the Best British Poetry, commissioned for BBC Radio, and translated into Polish, Croatian and Japanese. I'm also the author of Quick, to the Hothouse (dancing girl press) and Mashnotes (pitymilk press)." – Jane Flett, Publisher
"So Fool's Journey is a reminder to myself. I might be the Fool, but I'm also heading in some other direction. It might be hard, but I don't need to be. There's another card tomorrow. And the next day. And all of them are looking great." – Jane Flett on Little Red Tarot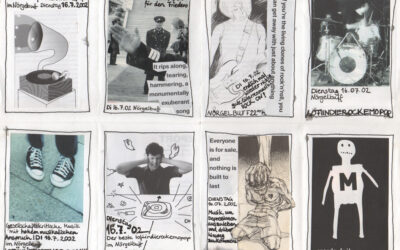 My first ever DJ-Set took place in a friendly dark bar, called Nörgelbuff, in 2002 in Göttingen,...