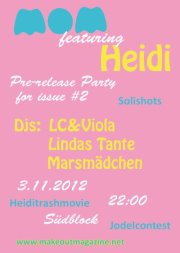 MOM invites you to a night full of dirndel-lederhosen-jodel fun!
3.11.2012 +++ 22:00 +++ südblock Referring to the main topic of issue #2: it's all about heidi, her friends and the mountains.
As a guest of the legendary her.story party we're proud to present you the finest DJs, a Jodelcontest and the best Heidi-Trash-Movie ever made!
Bring a goat and get a MOM for free!
What did you listen to in 2016? These are our playlists 2016. balm&creak war eine Radiosendung beim Stadtradio Göttingen und wurde 2002 von Jana und Verena gegründet. Eine Zeit lang haben Jana und Jan zusammen moderiert. Dann Jan und Verena von Leipzig aus. Die...