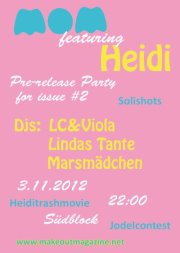 MOM invites you to a night full of dirndel-lederhosen-jodel fun!
3.11.2012 +++ 22:00 +++ südblock Referring to the main topic of issue #2: it's all about heidi, her friends and the mountains.
As a guest of the legendary her.story party we're proud to present you the finest DJs, a Jodelcontest and the best Heidi-Trash-Movie ever made!
Bring a goat and get a MOM for free!
Photo by Matheus Bertelli on Pexels.Why self-actualization coaching? Self-Actualization Coaching is designed to help you to start living your best life. Born out of the positive psychology movement, Self-Actualization Coaching focuses on how positive changes can be...