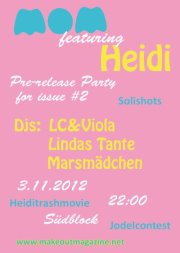 MOM invites you to a night full of dirndel-lederhosen-jodel fun!
3.11.2012 +++ 22:00 +++ südblock Referring to the main topic of issue #2: it's all about heidi, her friends and the mountains.
As a guest of the legendary her.story party we're proud to present you the finest DJs, a Jodelcontest and the best Heidi-Trash-Movie ever made!
Bring a goat and get a MOM for free!
Selbstvertrauen stärken - lasse Ängste und Sorgen hinter Dir Mit einem gestärkten Selbstvertrauen ändert sich alles. Ohne Selbstvertrauen hingegen, wirst Du viel zu schnell abgelenkt, umgestimmt oder verfällst in Zweifel, kurz Du wirst nicht durchhalten - für jede...