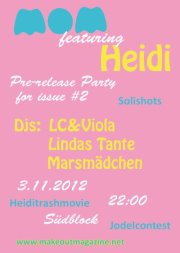 MOM invites you to a night full of dirndel-lederhosen-jodel fun!
3.11.2012 +++ 22:00 +++ südblock Referring to the main topic of issue #2: it's all about heidi, her friends and the mountains.
As a guest of the legendary her.story party we're proud to present you the finest DJs, a Jodelcontest and the best Heidi-Trash-Movie ever made!
Bring a goat and get a MOM for free!
Einfacher Leben lernen: Nach dem Abitur wollte ich ins Ausland gehen - ein Jahr lang in eine neue Kultur eintauchen, eine neue Sprache lernen und endlich selbstständig sein. Aber, wie das bei den meisten Sachen so ist, habe ich ganz andere Sachen gelernt, als ich...