Your About Page is one of the most important pages of your website. It gives you the opportunity to tell your visitors something more about yourself. You already have their attention, they are already interested, so don't miss this chance to give them the information they want to decide to work with you.
This is the place to infrom your visitors about your why, your mission and you history.
Last week I wrote an article on how to design your Start Page – a page that gives an overview over your offers.
On the About Page (or about me or team page) you can go into more detail. In this article I will introduce the five most important things to remember when designing an about page and then show you some examples, so you can get started with your About page right after!
1. Seize the opportunity
If people come to your about page, you already have their attention. They came to your website, found something they were looking for and want to know more. Give them what they want!
Tell them about your mission, introduce yourself and use design elements and pictures to underline what you stand for.
2. Aiming to reach your goal
Similar to your start page you should again ask yourself what you are inviting your visitors to do.
Would you like for them to book an appointment with you? Should they buy your book? Read your articles? 
Lead them towards your call to action. You  can follow this simple structure:
– Describe the situation we're in now
– talk about the problem(s) you see that are affecting your visitors as well
– show them how to approach the problem
– offer a solution and refer to some success you've already had
– allow them to see what life could look like after the problem is solved
– invite your visitors to be a part of that journey
3. Conviction
As I've mentioned in earlier articles, it's a great selling point if your visitors believe in what you stand for and if you can say what that is with certainty:
> I do this work because protecting our earth is one of my priorities..
> I do this work because I believe we need to start with ourselves, if we want to change things in this world in a positive way.
> I do this work, because I believe it is important that we share our knowlede so all can benefit from it.
4. show courage
Give your visitors the opportunity to connect to you and your ideals or to your team. Show yourself or your team in a situation or surrounding that really represents what you do. Give them a look behind the scenes.
5. be yourself
Often we think of the about or team page as just another task we have to check of when working on your website. 
But as I've just shown, it's a great opportunity to bind your customers closer to you, if you do it right. 
They are already interested in you so give them that little extra to offer them a reason to stay. Be funny or creative, be yourself. Try to make it something special, something people will remember.
Dominique Ara – Transformative Leadership
visit Website
This About Page is simple but effective. She says everything that is important and adds a flow though the graphical elements. Then it all ends with a call to action.
It's Glo! – Storytelling. Entrepreneurship. Travel. Lifestyle. Growth.
visit Website
This About page is structured in a simple way as well. Pictures that tell a story alternate with short text bits. And in the last paragraphs you learn how to engage further and stay in touch.
Matthew Kimberly – Marketing for Coaches & Small Business
visit Website
This about page introduces the different fields in which Matthew works. Each section is underlined by one or more quotes of people he has worked with. These quotes don't only strengthen his argument, they also function as a visual element to divide the different sections. Classic and effective.
EXAMPLE – TEAM PAGE
Humaan – We're Only Humaan
visit Website
Humaan are creative and funny. They show that you can give a fantastic overview over your work without using many words. You immediately know what they are about when you see the team and the way they choose to present it.
If you'd like some help with your About Page or website in general, send me a message. Or join WEB DESIGN FOR CHANGE to learn more about how to set up your Start Page and how to create your website.
This might be interesting as well: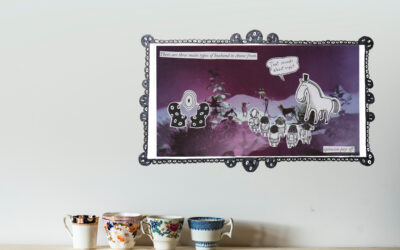 There was a night where me and a couple of friends met in one of our houses, and we all made collages and had some...
read more